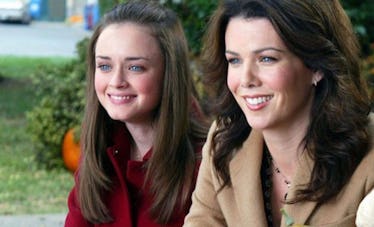 A Thanksgiving 'Gilmore Girls' Marathon Is Coming, So Get Your Sweatpants & Coffee Ready
Warner Bros. Television
Thanksgiving and Gilmore Girls go together like turkey and gravy. They're both cozy, revolve around food, and focus on the importance of family. UPtv obviously understands this concept, which is why the network is planning on airing a Thanksgiving Gilmore Girls marathon. According to EW, GilMore the Merrier is returning to UPtv for round two — the channel will run all seven seasons of the beloved mother-daughter dramedy over the holiday week. Bonus! Actor Scott Patterson, aka Luke Danes, will be hosting the festive event. Stay tuned to see if he'll rock a backwards baseball cap.
GilMore the Merrier is slated to kick off Monday, Nov. 19 at 3 p.m. EST. The episodes will conclude on Sunday, Nov. 25 at 12 a.m. Now that's a lot of Gilmore. Public service announcement: The series has two Thanksgiving-themed episodes, so make sure you mark you calendars for those standout hours. Lane kisses Dave! Sookie gets wasted! Luke's hiding April! Don't let "A Deep Fried Korean Thanksgiving" (Season 3, Episode 9) and "He's Slippin 'em Bread...Dig?" (Season 6, Episode 10) slip under your seasonal radar. If any show knows how to make an event or a time of year look extra special, it's Gilmore Girls. And Stars Hollow sure knows how to throw a party. From the festivals to the decorations to those stunning "thousand yellow daisies," the series takes atmosphere to an almost surrealist level. I don't think fans would have it any other way.
Thanksgiving has another special connection to Gilmore Girls. Back in 2016, Netflix premiered the series' highly anticipated revival, Gilmore Girls: A Year in the Life, on Nov. 25 — just in time for a Thanksgiving weekend binge. The show contained four 90 minute episodes and chronicled a year in the lives of the original Gilmore Girls characters 10 years following the finale. Each installment represented a season. While fans were hungry for more after being blessed with six more hours of the acclaimed hit, there are reportedly no plans of more Gilmore in the near future.
"We haven't discussed it at all," VP of Original Content at Netflix Cindy Holland revealed at July's Television Critics Association press tour. "But [creator Amy Sherman-Palladino, who currently helms Amazon's Emmy-winning The Marvelous Mrs. Maisel] knows that we are very big fans of Gilmore Girls."
"The worst thing is to wait a couple of years for your favorite show to come back and for it to disappoint you, but they sure delivered and people were really excited about more, and we have been talking to them about the possibility of that," Netflix's chief content officer Ted Sarandos previously told the the U.K. Press Association in 2017.
"It'd be nice to do it every year," Scott Patterson explained to The Hollywood Reporter. "Maybe every two years, do a three-month thing, do four more chapters. It was easy to do. It was fun. It was really rewarding and people got a sense that if this was going to be the last thing that we now have some closure."
A Year in the Life concluded with a massive cliffhanger, so I wouldn't exactly call the note it left audiences on closure. But even if the Gilmore Girls story never gets concluded, at least there are mega-marathons like UPtv's to remind us of the good times.