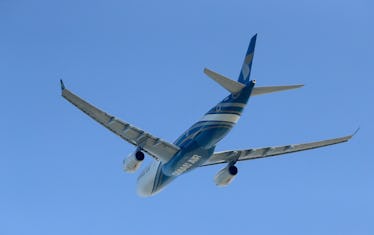 The Dept. Of Transportation Announced Some Good News For Travelers Before Thanksgiving
Andrew Redington/Getty Images Sport/Getty Images
The holidays are upon us everyone, and even though there's a lot to look forward to, going home for the holidays can always be a strenuous process. From cramped spaces to long delays, flying on a plane isn't always the most glamorous experience. However, there's an exciting new venture in the works for 2019 that will make flying easier (and safer) for passengers. According to the Department of Transportation (DOT), a task force for sexual misconduct on airplanes will be introduced this coming year and hopefully make some needed changes to air travel.
On Thursday, Nov. 15, the DOT announced that it will create the National In-Flight Sexual Misconduct Task Force in order to investigate sexual misconduct on airplanes. So, for those who are dreading traveling ahead of the holidays, this may serve as a sliver of reassurance that air travel has a lot of changes on the way, and this time, it's for the better.
Even though we're all excited to see this take place, we'll have to wait a little bit longer. Its first meeting is set to take place Jan. 16, 2019, and according to a press release the task force will work as a subcommittee to the Aviation Consumer Protection Advisory Committee (ACPAC) to "review current practices, protocols and requirements of U.S. airlines in responding to and reporting allegations of sexual misconduct by passengers on board aircraft." The task force will reportedly directly to the ACPAC about their findings and provide recommendations to the committee on how to combat these issues.
Even though this task force may not be kicking off until 2019, it couldn't have come at more helpful time. According to an April report from the FBI, reports of midair sexual misconduct and assaults increased 66 percent from the 2014 to 2017 fiscal year. Furthermore, CNN also reported in June about the rise of in-flight sexual misconduct allegations, revealing the cases have been reported by both passengers and the cabin crew.
According to CNN's findings, the FBI opened 63 investigations in 2017 into sexual assaults on an aircraft compared only 38 investigations opened in 2014. In June, nearly 2,000 flight attendants spoke to CNN about sexual misconduct on airplanes, and one out of five claimed that they have received reports about sexual assault while working during a flight. While CNN noted that its difficult to tell just how prevalent assault on planes is, stories that have emerged are disturbing. For example, in August, a man was convicted of assaulting a female passenger while she was sleeping onboard the plane.
Flight attendants told CNN that the conversation surrounding sexual misconduct in air travel is basically nonexistent. Sara Nelson, the president of flight attendant union Association of Flight Attendants-CWA who worked as a flight attendant for 22 years, relayed to CNN that she has never personally been told how to handle a report on midair sexual misconduct.
"In my 22 years as a flight attendant, I have never taken part in a conversation — in training or otherwise — about how to handle sexual harassment or sexual assault," Nelson told CNN.
Sexual harassment and assault is still a serious problem affecting both men and women within society. Although there's still a lot of work that needs to be done, this is definitely a step in the right direction. Safe travels.