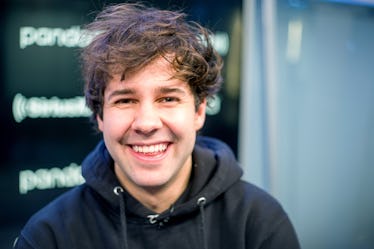 David Dobrik Will Host A 'SpongeBob SquarePants' Special With The Show's Voice Cast
Steven Ferdman/Getty Images Entertainment/Getty Images
Social media influencer and YouTube star David Dobrik is bringing SpongeBob fans back to Bikini Bottom. According to a report in TheWrap, Nickelodeon will be airing a SpongeBob SquarePants special hosted by David Dobrik in early June. With many of the original voice cast members slated to join the table read along with a brand new rendition of "The F.U.N. song" featuring the digital star, it's a must-watch for fans looking to virtually transport themselves to a pineapple under the sea.
On Friday, June 5 at 7 p.m. ET, viewers can tune into Nickelodeon to listen to Tom Kenny's SpongeBob, Bill Fagerbakke's Patrick, Rodger Bumpass' Squidward, Carolyn Lawrence's Sandy, Clancy Brown's Mr. Krabs, and Mr. Lawrence's Plankton voice some of the most iconic scenes and quotes from the show against the backdrop of the series' original animation. According to TheWrap, fans can expect to re-live some of the show's most beloved moments including "Band Rehearsal," "Alaskan Bull Worm," and "I'm Dirty Dan."
Dobrik, who told TheWrap that he credits the popular show with helping him develop his own brand of comedy when he was growing up, will be hosting "The Stars of SpongeBob Fan Favorites Special." In addition to leading the OG SpongeBob SquarePants through their lines, he will also partake in a new and revamped version of "The F.U.N. Song."
Nickelodeon's decision to air the special comes after the release date for SpongeBob SquarePants: Sponge On The Run, which was originally scheduled to hit theaters on May 22, was pushed back.
The upcoming SpongeBob film will feature an all-star cast including the internet's boyfriend Keanu Reeves as a particularly hilarious wise sage and a rapping Snoop Dogg wearing a bright purple. In addition, Scarlett Johansson, Awkwafina, Alec Baldwin, David Hasselhoff, Antonio Banderas, and Reggie Watts are also slated to voice some of the film's characters.
Previews show that the movie's storyline will revolve around the adventures and hijinks of the yellow sponge, Patrick, Squidward, and the whole gang as they travel to The Lost City of Atlantic City to rescue Gary from his "snail-nappers."
Unfortunately, there's no telling when Paramount Pictures will be releasing the newest Bikini Bottom adventure in theaters amid the coronavirus pandemic, but it sounds like David Dobrik and the OG SpongeBob Squarepants gang will be bringing fans plenty of laughs and nostalgia in the meantime when the table read special airs on June 5.