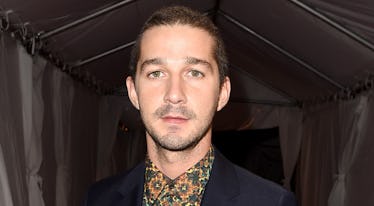 Shia LaBeouf Is Playing His Own Father In An Autobiographical Movie About His Childhood
Kevin Winter/Getty Images
Shia LaBeouf is taking on his most personal role yet in his next movie: his own father. The actor is helming a biopic about his own life, but instead of portraying himself, LaBeouf will play his father in the film. The upcoming Shia LaBeouf autobiographical movie will explore the actor's unorthodox childhood, with a focus on LaBeouf's complicated relationship with his father.
Shia LaBeouf has signed on to star in the new movie Honey Boy, which is loosely based on the actor's own childhood. LaBeouf has spoken about his upbringing several times publicly, describing his childhood as being a hippy lifestyle and growing up with very little money. In particular, he had an incredibly complex relationship with his father Jeffrey Craig LaBeouf, a Vietnam War veteran who jumped from job to job while raising LaBeouf. The movie's title comes from Shia's childhood nickname.
Although he has always maintained that he had a good childhood and still loves his father, Shia LaBeouf has described numerous alarming interactions with his dad during his childhood. Jeffrey LaBeouf reportedly verbally abused Shia throughout his childhood, and once even reportedly pointed a gun at his son during a PTSD episode from his time in Vietnam, according to the Orange County Register. Jeffrey also reportedly abused drugs and alcohol throughout Shia's childhood — Shia claimed to Esquire that Jeffrey was placed in rehab for heroin addiction. Shia also shared with Parade that his father allegedly dealt drugs to the Hawaiian mafia. Elite Daily reached out to LaBeouf's team for confirmation on these accusations, but did not hear back by the time of publication. Despite these unnerving details, Shia still financially supports his father, and maintains that he is proud of his complicated upbringing, although he recognizes that his father continues to play a manipulative role in his life.
After his parents got divorced when Shia LaBeouf was a teenager, he would cope with the split by imitating his father as a performance for his family, so Honey Boy will not be the first time that LaBeouf has gotten into character as his dad. It was shortly after this time that LaBeouf landed his breakout role as Louis Stevens on the Disney Channel sitcom Even Stevens, and began finding success in both TV and movies.
With Shia LaBeouf set to play his dad in the story of his childhood, the next big question that you are probably wondering is who will be playing the role of Shia? Honey Boy has also cast its second lead: Lucas Hedges, the super-buzzy actor who will be playing Shia LaBeouf opposite the actual Shia LaBeouf in the new movie.
Lucas Hedges has recently starred in a string of Oscars-nominated movies, including Lady Bird, Three Billboards Outside Ebbing, Missouri, and Manchester by the Sea, making him one of the most sought-after actors in the movie biz right now. Following his awards season breakout, Hedges is also signed on to star in the gay conversion therapy drama Boy Erased, the Jonah Hill-directed coming-of-age drama Mid-90s, and co-star with Julia Roberts in the drama Ben Is Back this year.
Honey Boy will be directed by Alma Har'el, a documentary filmmaker credited with redefining the genre after releasing her critically lauded 2011 film Bombay Beach. Shia LaBeouf has worked with Har'el before; he executive produced her 2016 documentary LoveTrue, which followed the real-life romances of three distinctly different couples around the globe.
A release date for Honey Boy has not been set yet, but it could likely be released towards the end of this year or sometime in 2019. Shia LaBeouf's other upcoming credits include starring in the professional wrestling adventure-drama The Peanut Butter Falcon and portraying the tennis player John McEnroe in the sports biopic Borg McEnroe.