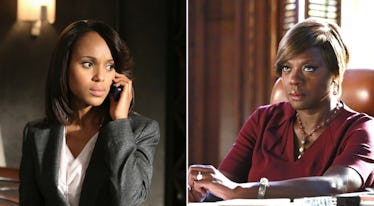 A 'Scandal' 'HTGAWM' Crossover Is Happening, So Pass The Wine & Praise Shonda
ABC
Every Thursday, tons of TV fans pour themselves a glass (or two) of wine, flip their TVs to ABC, and enter the ferocious, high-drama world of Shondaland. Although all three of Shonda Rhimes' currently airing ABC dramas share a lot of themes in common — a powerful female lead, soapy storylines, gallons of wine — the super-producer has yet to bring any two of them together for a crossover... until now! The big news is that there's going to be a Scandal-How to Get Away with Murder crossover episode coming up soon, according to Deadline. Series stars Kerry Washington and Viola Davis hinted at the crossover on Instagram shortly after news broke.
It actually seems pretty strange that there has not been a Shondaland crossover before now, especially since Scandal and How to Get Away with Murder deal with such similar subject matter that a crossover wouldn't even need too much explaining. Both shows center on a powerful woman known for her ability to cover up crimes, spin major stories, and get her hands dirty when need be. In Scandal, that's Kerry Washington's Olivia Pope, a crisis management expert to for politicians in Washington, D.C., and in HTGAWM, it's Viola Davis' Annalise Keating, a prominent criminal defense lawyer who goes the extra length for her clients. Just imagine what is going to happen to bring Olivia Pope and Annalise Keating together, and how unstoppable they will be working on the same team!
After early rumblings of the crossover event popped up online, Kerry Washington and Viola Davis took to Instagram to tease fans even more and seemingly confirm the crossover reports are true. Washington posted a photo of herself decked out in full Olivia Pope chicness sitting on the HTGAWM set, and asked Davis where she was in the caption:
Hey Ms @violadavis ❤️ check it out. This spot look familiar?! Where are you?
Viola Davis responded shortly afterwards, sharing a photo of herself in the presidential Scandal set and tagging Kerry Washington in her caption:
Hey @KerryWashington, guess where I am?!
Sooooo, yeah — this crossover is definitely happening after seeing those photos! It is also great news that the special episode is happening now, since Scandal is set to end after its currently airing seventh season concludes in the next few months. As for How to Get Away with Murder, the youngest Shondaland show still airing is currently in the thick of its fourth season, and is still waiting to see if it gets picked up for Season 5 or not. And then of course there's Grey's Anatomy, whose massive lifespan of 14 seasons and over 300 episodes dwarfs even the relatively long-running Scandal and HTGAWM. Unfortunately for Shonda superfans, it does not look like Grey's will be part of this crossover event, buy hey — maybe if this one gets good ratings, Annalise Keating will take a trip to Seattle sometime next season.
HTGAWM creator Peter Nowalk tweeted a page from the upcoming crossover event, which features Olivia Pope and Annalise Keating meeting for the first time:
Since Scandal only has eleven episodes left before taking its final bow, we can probably expect the How to Get Away with Murder crossover event to happen pretty soon — sometime in February or March looks like the best bet for when to expect it. Also unclear at this point is whether the crossover will be a two-episode event, with one part of the crossover airing as a Scandal episode and the other as a HTGAWM episode, or simply a one-episode event only taking up one of the show's timeslots.
But we can worry about all those logistics later. For now, start stocking up on wine and get ready for the Shondaland mashup of the year!