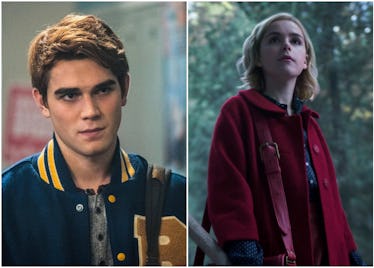 A 'Riverdale' & 'Sabrina' Crossover Is Happening, But It's Not What You'd Expect
The CW & Diyah Pera/Netflix
Netflix's Chilling Adventures of Sabrina hinted more than once at existing in the same world as Riverdale, making references to the titular town and even including a cameo from a presumably dead character, Ben Button. While Ben's Sabrina appearance suggested that the shows may follow different timelines or that he's the subject of a witchy resurrection, we may soon get clear answers about the two shows' relationship. A Riverdale and Sabrina crossover comic book is coming, so get ready to take some notes for possible episodes.
Although it was originally planned as a Riverdale spinoff on the CW, Chilling Adventures of Sabrina's place at Netflix does complicate the chances of the TV shows officially crossing over. But seeing as the new drama is based on the Chilling Adventures of Sabrina comic books, anything that happens in print could feasibly translate to the screen someday. While there's no word about whether it will lead to a TV crossover, the new comic book issue Archie #700 will feature Sabrina leaving Greendale and causing mischief in neighboring town Riverdale. Describing a "missing-person mystery" within the story, writer Nick Spencer told MTV News:
We were looking to do something that had never been done before. And we wanted to make it so every character that falls under the Archie banner felt like they had a place in the core title... [Sabrina's] going to shake Riverdale up in a major way! When a character as classic and iconic as Sabrina comes to town, you know it has to have a big impact.
Although Archie Comics released the issue's first few pages to MTV, the early story focuses more on the Riverdale gang catching up with each other after summer vacation. Just as the Riverdale team initially wanted to reveal Sabrina as a villain at the end of its first season, it sounds like the teen witch's introduction in the comic will come after a long tease. Artist Marguerite Sauvage told MTV that Sabrina has a "central role which is slowly revealed and discovered," so anyone expecting Sabrina to casually walk into Pop's will probably see a much more complex first appearance.
As for whether the mysterious story ever hits TV, Riverdale and Chilling Adventures of Sabrina creator Roberto Aguirre-Sacasa is still hopeful about the shows coming together. Speaking to Entertainment Weekly after the Sabrina launch, he said of a potential crossover:
I would hate if there was no way possible for there ever to be a crossover. I think there'd be a great episode where the Riverdale kids hear about a haunted house in Greendale and try to break in and it's Sabrina's house. There's totally a universe where that happens... Rules are made to be broken and I'd hate for [a crossover] to never happen.
While the official release date and specific plot details of Season 2 of Sabrina are still under wraps, the holiday special Chilling Adventures of Sabrina: A Midwinter's Tale hits Netflix on Dec. 14. So, what are the chances of Sabrina and her friends caroling in Riverdale during the special? Until the details of this comic book issue reach the small screen, I'll settle for even the slightest hint of a Christmas crossover.
Archie #700 is now available in comic shops. Season 3 of Riverdale airs on Wednesdays at 8 p.m. ET on the CW. Season 1 of Chilling Adventures of Sabrina is streaming on Netflix.