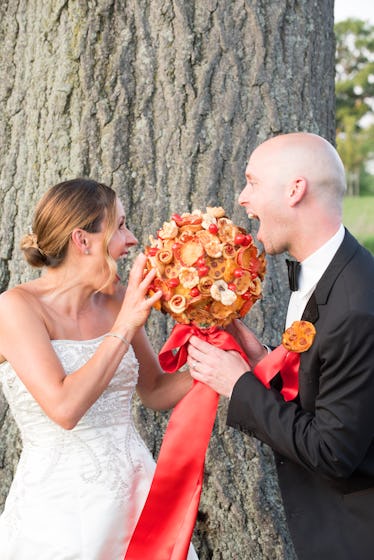 Pizza Bridal Bouquets & Boutonnieres Are Real (Cheesy) Things & You Can Win 'Em Both For Free
Villa Italian Kitchen
Mine and my husband's relationship pretty much revolves around food. I don't know if it's our Mexican roots or our Millennial foodie ways, but date nights are just an opportunity for us to explore new restaurants and food trends together. Every Friday night, we cook a big dinner together. I mean, the night he proposed, I was still full from the food tour we took earlier that evening. But now, newlyweds can now take couple food goals to a new level: The bride can walked down the aisle with a pizza wedding bouquet and the groom can wear a matching edible boutonniere.
'Tis the season to attend a spring wedding, amirite? Brides everywhere are gearing up for their warm-weather nuptials by picking dresses, shopping for accessories, and sifting through Pinterest for inspiration to make their big day look especially picturesque. I know I did. I had multiple Pinterest boards when I was planning my wedding — one for the table settings, one for desert inspo, one for the bouquet — one for every detail. The images that flooded my bouquet mood board ranged from a small cluster of black and white anemones to a huge arrangement of baby's breath. In the end, I went with a traditional bouquet: An all white assortment of flowers with a white ribbon holding the stems together. I changed my mind so many times, but a bouquet made out of actual pizza was never on the table (pun intended). It might not be for me, but judging from the photo below, it could be the next weird wedding trend.
Listen, I get it, it's 2018 (the age of social media), and everyone is looking for a way to up the ante on the wedding shock value. Couples have gotten married at their local McDonald's restaurants, a pastry chef in France baked his bride a dress out of cupcakes, and another couple cut into a cake disquised as a life-size statue of the bride worthy of a spot in Madame Tussauds. But by far the most creative of all, is this edible bouquet made of freshly prepared pizza dough, 100 percent whole milk mozzarella, fresh California tomatoes, and zesty pepperoni. And perhaps the tastiest part is you can carry it down the aisle completely for free.
Villa Italian Kitchen, the restaurant chain out of New Jersey, is the first to create the pizza bouquet and boutonniere. "We are so excited to kick-off wedding season with the launch of the world's first Pizza Bouquet and Boutonniere," said Mimi Wunderlich, Director of Communications and Digital Marketing, Villa Italian Kitchen. "These delicious floral accessories are perfect for pizza-loving couples looking to spice up their wedding with one-of-a-kind designs. We are looking forward to celebrating the marriages of some of our most loyal fans by gifting them a set of their own, just in time for their wedding!"
If you can actually see (and smell) yourself pairing your wedding gown with a custom pizza bouquet, you can enter a giveaway on their website by June 15. Villa Italian Kitchen with randomly select a limited number of lucky foodies to receive a bouquet and matching pizza boutonniere for their big (and sure to be viral) day. Personally, I prefer the consolation prize — a coupon for a free slice of Villa Italian Kitchen's Neapolitan cheese pizza, redeemable from June 18 – June 22, 2018.
I admit, it's not my thing, but I will say I've never drooled over a bride's bouquet before. It might make you smell like the inside of an oven, but it'll make for some fun photos. They'll look cheesy, but that's the point.