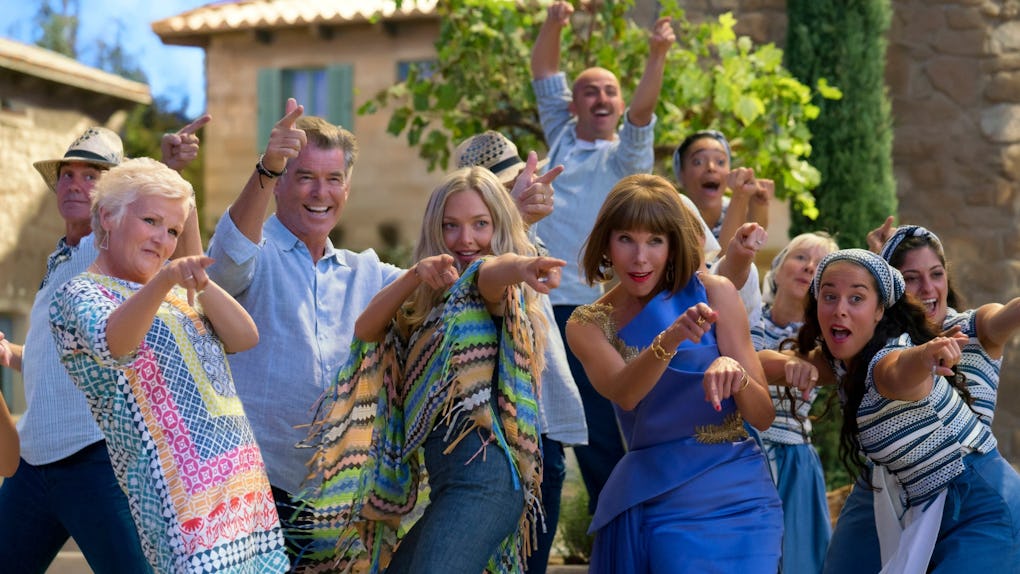 Universal Pictures
A 'Mamma Mia 2' Dancer Is In Past & Present Scenes & Twitter Is Fully Trolling The Movie
The joy of Mamma Mia! Here We Go Again may just carry me through my late summer blues with its sunny portrayal of Greece, fabulous '70s fashion, and unabashedly happy performances of ABBA songs. Everyone onscreen, from the main cast to the background dancers, seems to be having the time of their lives, and one actor particularly reaped in the benefits of the movie. A Mamma Mia 2 dancer is in past and present scenes, and Twitter is totally trolling the movie for its casual hint about the existence of time travel. Could that be why no one on that island seems to age?
Twitter user Tom Zohar first pointed out that one of the movie's dancers, who Teen Vogue identified as Justin Thomas, appears in scenes taking place in both the past and the present. You can spot Thomas as a waiter in the "Waterloo" dance sequence in Paris and then later as a party guest watching Cher's Ruby Sheridan approach Fernando. Zohar joked that a third Mamma Mia film should introduce audiences to the dancer who has managed to pull off time travel and have incredibly fun-looking lives in both Paris and Greece. I'd like to try out whatever elixir of life Thomas's alter ego has concocted.
The casting goof is definitely something that crews can get away with in live musical theater, when the same ensemble of dancers appear in nearly every scene. However, with the possibility of screenshots looming over every movie, the team behind Mamma Mia! should have expected fans to catch onto Thomas pulling double duty. Twitter users responding to Zohar's post can't help but love the little blooper, and their responses are almost as entertaining as watching Thomas's twirls in the movie.
Thomas appearing in both timelines of the film apparently wasn't a secret to begin with, as he shared his own behind-the-scenes photos on Instagram when the movie premiered in late July. The pictures include a shot of his "Waterloo" scene and choreography sessions with the casts from both the past and present timelines. How many more time travelers are hiding in the background of these dance numbers?
Thomas's history with Mamma Mia! goes further back than his role in the sequel. He previously starred as Sophie's boyfriend Sky in a Liverpool stage production of Mamma Mia!, and according to his Instagram, it looks like he's currently getting his fill of musicals with a role in the West End production of Aladdin. Any chance that he'll make his way to London's Mamma Mia! next?
Whether the best explanation of Thomas's dual appearances is Cher's time-turning spell or just simple movie magic, it's clear that he and the rest of the movie's dancers worked their butts off in Mamma Mia 2. While most of the Twitter feedback you'll see about the movie covers its feel-good vibes, Thomas isn't the only dancer to earn special attention. Fans have also loved that one of the featured dancers was in a wheelchair, and this is the kind of diversity we deserve in 2018. Who knows, maybe Mamma Mia 3 can be a love story between the wheelchair dancer and Thomas's time-traveling character.