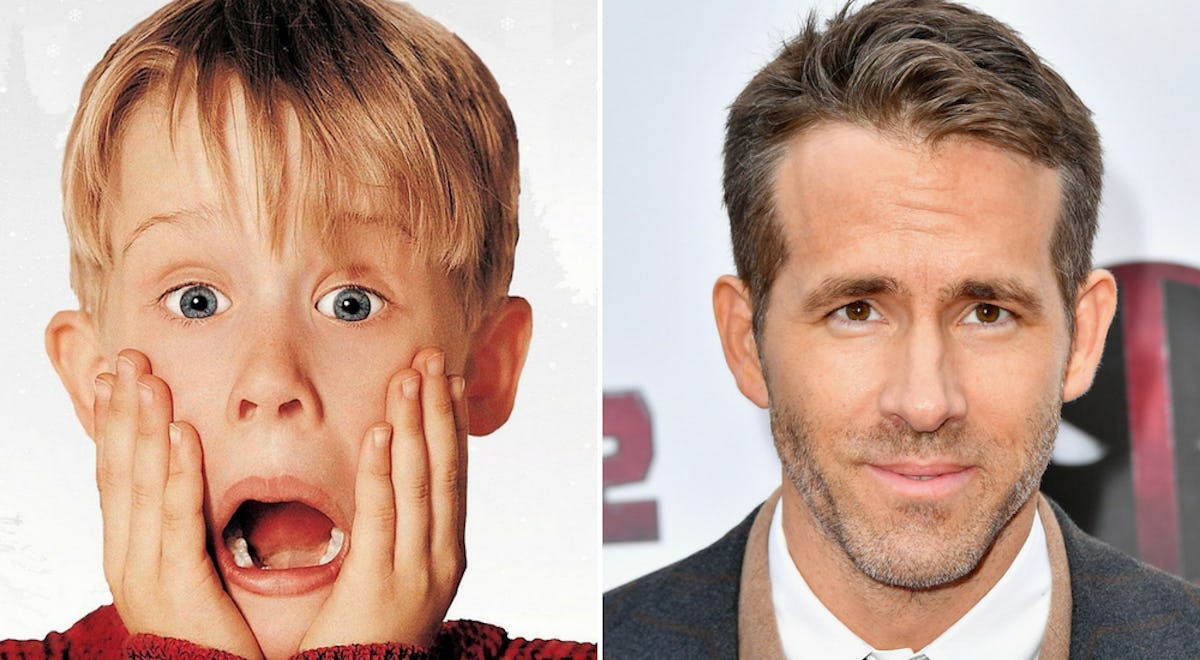 An R-Rated 'Home Alone' Reboot With Ryan Reynolds Is Coming, So Get Ready, Ya Filthy Animals
20th Century Fox, Michael Loccisano/Getty Images
Leave it to Ryan Reynolds to transform a wholesome holiday classic into an irreverent adult comedy. Yep — a Home Alone reboot is coming, but with Ryan Reynolds attached, fans should not expect it to look like the 1990 John Hughes movie. No, instead, Reynolds is turning the holiday crime caper into an R-rated stoner comedy, which will be called Stoned Alone. I can't make this stuff up, folks.
Stoned Alone will riff on the concept of Home Alone, as a twenty-something stoner bro missed his flight for a holiday ski trip, but makes the most of it by getting high alone at his place. However, he gets too stoned and becomes paranoid that thieves have broken into his house. Turns out, people really have broken in, and the paranoid stoner sets out to thwart the thieves. I'm going to go out on a limb and say the methods our stoner protagonist will use to foil these thieves will be reminiscent of the clever, homemade traps that Macaulay Culkin's Kevin McCallister employed back in the day... except they will probably be much raunchier or more violent for Stoned Alone to earn its R rating.
Since the new movie is still in its early stages, there is no word yet if we will be seeing Macaulay Culkin or any of the other Home Alone actors make a cameo in Stoned Alone, but seeing as Culkin has been game to play a twisted, grown-up version of Kevin McCallister in recent years, there is a chance that he could sign on. Ryan Reynolds himself has actually not signed on to appear in the film, but rather, he is producing the movie through his production company Maximum Effort. Of course, Reynolds might decide to take a role when the casting process begins.
Stoned Alone will be directed by Augustine Frizzell, a fresh comedic voice who is making a name for herself with this year's teen dramedy Never Goin' Back. The screenplay is being written by Kevin Burrows and Matt Mider, the writing team behind the upcoming Netflix black comedy The Package, which was originally titled Eggplant Emoji. It is unclear at this point when Stoned Alone will be released, but the best guess would be around the holiday season, since it sounds like the new movie will be based around the holidays just as the original was.
This is one of several projects that Ryan Reynolds is currently working on. The actor, who recently starred in Deadpool 2, will reprise his superhero character yet again in an X-Force movie and in Deadpool 3. He will also star in the upcoming Michael Bay Netflix film 6 Underground, and two more sequels to his movies: The Croods 2 and The Hitman's Wife's Bodyguard. And Home Alone isn't the only iconic property that Reynolds is remaking: he will also voice Pikachu in next year's Detective Pikachu and star in a remake of the classic movie (and board game) Clue.
Get ready for more news about Stoned Alone to come out in the next few months.