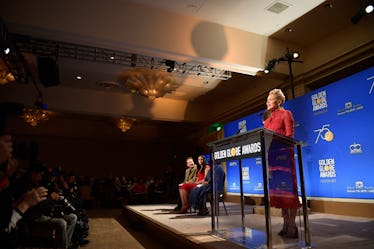 There's A New Way To Stream The Golden Globes Red Carpet & It Is Super Easy
Matt Winkelmeyer/Getty Images Entertainment/Getty Images
The Golden Globes used to be the "also ran" of the movie awards, now it's the most cutting edge. Today, Jan. 2, 2018, the Hollywood Foreign Press Association and Dick Clark Productions (who produce both the awards show and the red carpet for television) announced they will get super 2010s for their 75th anniversary broadcast and host a Golden Globes Red Carpet Facebook Live stream. This is in addition to the regular red carpet airing on E! and will replace last year's Twitter live stream.
But where some live streams (like Twitter's was last year) can be a re-airing of footage technically filmed for elsewhere, the Facebook Live stream will come with a complete set of hosts. It will also tie in with Instagram, which Facebook owns.
So, if you think you just can't handle yet another evening with Giuliana Rancic and Ryan Seacrest, or you really hated the 360 "immersive experience" (which E! is bringing back this year, along with Will Marfuggi), this could be the answer you've been looking for.
The two-hour pre-show, "The HFPA Presents: Globes Red Carpet Live," is scheduled to stream from 6-8 p.m. ET Sunday at www.facebook.com/GoldenGlobes, with hosts AJ Gibson, Jeannie Mai, Scott Mantz and Laura Marano.
There will be 360-degree photos, but instead of watching them on screens in E! studios, fans will be able to look at those photos for themselves, on both the show's official Instagram and on the Facebook page.
The Instagram will also have a separate "story" feed on Instagram, which will be hosted by actress-singer Laura Marano. That feed will continue throughout the night to encompass exclusive backstage footage, including having the winners enter the 360-degree booth after they leave the stage. All of that will be shot by photographer Ramona Rosales.
They're even having this carryover to the press room, with a fan-driven Q&A, "where select questions will be sourced via Facebook and streamed live on the Golden Globes Facebook page."
In a statement given to Variety, HFPA president Meher Tatna said the following.
We're thrilled to partner with Facebook and give viewers a front-row seat to the red carpet that can't be found anywhere else. We hope to enhance the overall viewing experience so fans at home can feel they're enjoying the show alongside their favorite stars at Hollywood's biggest party of the year.
Facebook's head of entertainment partnerships, Sibyl Goldman, was equally enthusiastic.
We always aim to create unique experiences which bring communities together, and partaking in the kickoff of award season in conjunction with the Hollywood Foreign Press Association is a demonstration of our commitment to bring fans together through entertainment they enjoy.
The 75th anniversary of the Golden Globes has been a big deal this year, with the Hollywood Foreign Press Association having a separate TV special hosted by Debra Messing and Eric McCormack (of Will & Grace fame) last month. The website is currently running a ten-part series looking back over the history of the awards, with an eye toward's this Sunday's broadcast.
This year's nominees include films such as Call Me by Your Name, Dunkirk, The Post, The Shape of Water and Three Billboards Outside Ebbing, Missouri, as well as television dramas such as The Crown, Game of Thrones, The Handmaid's Tale, Stranger Things, and This Is Us. Despite that, there are no women nominated in the Best Director category this year, an oversight that has caused some controversy.
The 75th Annual Golden Globe Awards will air on NBC on Sunday, Jan. 7 from 8 p.m. to 11 p.m. ET, with a two-hour red carpet event beforehand airing on E! and Facebook Live.