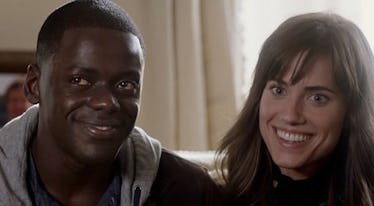 Jordan Peele Is Reportedly "Flirting With The Idea" Of Making A 'Get Out' Sequel
Universal Pictures
About a year and a half ago, Jordan Peele flipped the horror movie genre on its head by releasing Get Out, a twist-filled thriller that translated racism in America into a slasher flick. The movie became a surprise critical darling, and one of the rare horror movies to score multiple Oscar nominations in the main categories. So, obviously, the question on everyone's mind is... when is Get Out 2 happening? Sadly, a sequel has not been confirmed yet, but it does sound like a Get Out sequel could happen, at least according to a new interview with the movie's producer Jason Blum.
Unsurprisingly, Jason Blum is totally game for a Get Out sequel. Many of the horror movie producer's films have gotten one or more sequels — Paranormal Activity, Insidious, and The Purge are some of the best examples — but Blum emphasized that it is completely up to Jordan Peele if he wants to make a Get Out 2 or not. That said, Blum did tease that he thinks Peele is toying with sequel plans for the hit movie right now.
If Jordan wants to do a sequel, I'll do it in a second, but it has to come from Jordan Peele. I think he's flirting with the idea.
Jason Blum's statement echoes what Jordan Peele himself has said in past interviews about a possible sequel. Ahead of the movie's release in 2017, Peele told The Playlist that he was open to making a sequel and that there were several ways that he could think of to go with it. He reiterated that he is still open to making a sequel earlier this year, telling The Hollywood Reporter that he thinks there is still more story to tell and some loose ends to be tied up.
And of course, there is also a ton of demand for another movie in the Get Out world after the immense success of the first movie in terms of box office returns, critical reception, and overall cultural impact. Though it was not released during the traditional awards season, the movie was nominated for Best Picture, Best Director, Best Actor, and Best Original Screenplay at the Oscars, and Jordan Peele walked off with the Best Original Screenplay trophy. The newfound artisanship and legitimacy that Get Out imbued the horror genre with is credited with opening the door for more critically celebrated, original horror films, such as recent hits A Quiet Place and Hereditary.
But if Get Out 2 does wind up happening, fans will still probably have to wait a while to see it in theaters. Following his big break into directing, Peele is now currently producing the upcoming Spike Lee race dramedy BlacKkKlansman, which is coming out in August, and he also has his next creepy-looking directorial feature coming out next year, called Us. Not much is known about Us, but the minimalist poster that Peele shared on his Twitter describes it as "a new nightmare" from Peele's mind. Reportedly, Peele is talking with Elisabeth Moss, Lupita Nyong'o, and Black Panther breakout Winston Duke to star in the upcoming movie. Us is set to be released on Mar. 15, 2019.
Maybe after Us comes out, Jordan Peele will start working on a Get Out sequel? It definitely sounds like it is something that both Peele and the production company are interested in doing, so fans can keep their hopes up that we will find out more about that creepy, insidious world of Get Out sometime soon. Until then, the DVD and Blu-ray copies of Get Out include alternative endings and special footage that can help hold fans over.