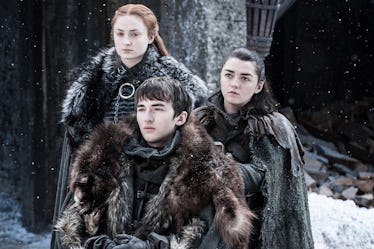 A 'Game Of Thrones' Monopoly Game Is Coming, So Get Ready To Own The Throne
HBO
If you're looking for a way to alleviate some of your angst about Game of Thrones' upcoming final season, the world of board games has you covered. While we watch the ultimate battle for the Iron Throne take place onscreen this spring, we can simultaneously live out our own dynasty feuds and family secrets with Hasbro's new Game of Thrones-themed game. A Games of Thrones Monopoly game is coming, and this will definitely help Thronies deal with the arrival of what will definitely be the deadliest winter yet.
Scheduled for a January 2019 release, this new Monopoly edition comes as a partnership between HBO and toy company Hasbro, which recently caused a stir with its new Monopoly for Millennials game. As with any themed version of Monopoly, the Games of Thrones board is equipped with features stemming directly from Westeros. You and your friends can travel across the Monopoly board with game pieces inspired by the Great Houses' symbols. Players can purchase properties throughout the Seven Kingdoms with Gold Dragon and Silver Stag coins rather than the brand's traditional paper money. The game will also ask you to build epic fortresses and castles, requiring players to ask for money from the Master of Coin rather than a banker. So where's my fur cape to wear while exploring the depths of Westeros?
Even better, the board game will take your average Monopoly board one step further with an interactive element. The Game of Thrones theme song will play from an Iron Throne-shaped card holder as you play, marking the first time an official Monopoly set has included music. This spring, I think it's best to host Sunday parties consisting of Game of Thrones Monopoly and whatever new episode airs on HBO that night.
While the epic game board doesn't hit retailers until January, fans can pre-order it from GameStop or Amazon (however, as of Nov. 20, the set is unavailable on the latter). After more than a year since the show's seventh season wrapped in 2017, Game of Thrones Monopoly will totally totally make those last few months of waiting for the final season worth it.
Meanwhile, if entering an alternate Westeros via Monopoly just doesn't satisfy you, juicy tidbits about the eighth season are finally hitting the web. While HBO hasn't leaked any new video footage yet, the network did confirm in a promotional trailer that the show will return this April. Entertainment Weekly also released an issue with a brand new cover photo of Jon Snow (Kit Harington) and Daenerys (Emilia Clarke) huddled together against an icy backdrop.
Speaking to EW about the eighth season, co-executive producer Bryan Cogman said:
It's about all of these disparate characters coming together to face a common enemy, dealing with their own past, and defining the person they want to be in the face of certain death. It's an incredibly emotional, haunting, bittersweet final season and I think it honors very much what [author George R.R. Martin] set out to do — which is flipping this kind of story on its head.
We still have some time to sort out our official fan theories for Season 8, but here's to getting inspiration from an intense session of Game of Thrones Monopoly.
Season 8 of Game of Thrones premieres on HBO in April 2019.