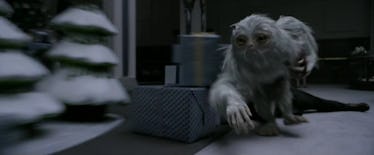 A 'Fantastic Beasts' Virtual Reality Experience Is Coming, So Get Your Wands Ready
Warner Brothers
Harry Potter is one of the most popular fantasy series in history because it created a world we the fans all want to join. The wizarding world is a place of daydreams, where magic happens; schools are like Hogwarts, and everyone can have a Fantastic Beast for a pet. That's why 2016's Google Daydream VR demo for the new movie franchise was so exciting for fans when it came out. Now they've expanded it to create a full on Fantastic Beasts virtual reality experience, letting Potterheads and wizards alike climb inside the world of Scamander's suitcase.
According to Pottermore, who announced the release of the VR experience starting tomorrow, Jan. 23, 2018, all it takes is a pair of VR googles, some headphones and you'll find yourself in a world of pure imagination.
Once again, you'll find yourself inside Newt's magical suitcase, able to move from his packed, curiosity-filled shed to the various areas which house his beasts. As you move from zone to zone, you can come face-to-face with Graphorns, Bowtruckles, Occamys, Nifflers and a truly spectacular Thunderbird. You'll also be able to perform spells – spells that will let you actually interact with the creatures, adding a whole new layer of realism.
Check out the trailer, where franchise star Eddie Redmayne (who plays Scamander in the films) decides to experience it for himself.
Having Redmayne attempt the experience in costume is a nice touch, as is the focus on everyone's favorite critter from the first film, the gold-hoarding Niffler.
The original experimental version was unveiled at London Comic-Con ahead of the first film's debut, before the reveal that it was really the story of Dumbledore and Grindelwald agreeing to have a battle down the line in 1945. At that point the series was still focusing on the creatures, which have since taken a bit of a backseat to the rest of the plot.
One of the reasons this new VR upgrade to the program into a full fledged VR experience is that it marks a return to focusing on Scamander's favorite living creatures: those who aren't human.
It also gives fans of the Potter series the experience that many of us have dearly wanted: the use of a wand. The VR experience package comes with a small hand held controller that, when the VR program is on, turns into a wand, and casts spells, both on the surroundings and on the creatures themselves.
This VR experience is only the beginning of Potter reality programming. Earlier this month, Pottermore dropped the trailer for Jam City's Harry Potter: Hogwarts Mystery, a role playing mobile experience game, where fans get to join the Hogwarts graduating class of 1990 and attend school with Nymphadora Tonks and Bill Weasley, all while trying to solve a mystery story that changes based on your decisions and role playing choices.
While this is more of a mobile game than it is a reality simulation, by making it a role playing game, it should spark the user's imagination and give them the Hogwarts school experience we've been longing for since the Owls with our invites never came.
Meanwhile, Nianitic is still working on attempting to put together the Harry Potter version of Pokemon Go, the extraordinarily popular augmented reality game, which will overlay the wizarding world on top of our own. Entitled "Harry Potter: Wizard Unite" the game is supposedly aiming to be ready by November of this year to coincide with the release of Fantastic Beasts 2: The Crimes of Grindelwald to movie theaters.
The Fantastic Beasts and Where to Find Them VR Experience will be released on the Vive, Daydream, Oculus and Gear platforms on Jan. 23, 2018.