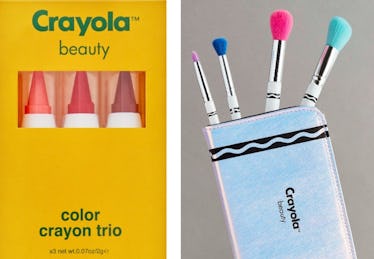 Crayola Is Finally Releasing A 58-Product Beauty Line & The Nostalgia Factor Is Unreal
Courtesy of Crayola
Most of my fondest childhood memories involve me, a box of crayons and stacks of paper covered in terrible fashion sketches, and girly doodles aplenty. Although, if I'm being totally honest, my crayons weren't always actual Crayola brand — my pencil case was usually filled with those generic-brand crayons, almost too waxy to color with. I envied my classmates who had the real deal — their drawings were always brighter and more colorful. These days, I'm still a crayon snob and I don't mind paying extra for better-quality pigment. Now, imagine if there was a Crayola makeup line that offered the same amount of color variety and pigment, not to mention a collection of products that encouraged good old-fashioned artistry. Well, you don't have to imagine, because an entire line of Crayola-branded makeup is coming to ASOS, and it's just as nostalgic as you could hope for.
It's about damn time Crayola capitalizes on their easy-to-use design. Makeup brands have been recreating the childhood favorite for years now. I can't tell you how many contouring crayons and lip and cheek chubby sticks I have in my vanity, all of which are designed to make your beauty routine feel fun and easy.
Teaming up with the British online retailer, Crayola collaborated on a massive beauty line complete with super-pigmented makeup and tools. And just like their box of crayons, Crayola's beauty products are technically child-friendly, since they're made from vegan and cruelty-free materials.
And Crayola is no beauty rookie, either. Just last month, the childhood favorite teamed up with Sally Hansen to create a range of six new InstaDri nail polish shades inspired by iconic colors. All hues kept their original names and donned the squiggly pattern on the caps.
So what exactly can you expext from the artsy collab? A whopping lineup of 58 products, with products spanning a rainbow-colored range of 95 colors. Products will range in price from $15 to $40, which means you can set your inner baby Picasso free, no matter what budget you're working with. Scroll down for every item in the limited-edition collection.
1 Brush Kit
Who said brush bristles can't be as technicolored as your eye shadow collection?
3 Eye Shadow Palettes
In case you were thinking Crayola couldn't think outside the (crayon) box, the brand also collaborated on a total of 5 different palettes.
1 Face Palette
All the blush, highlighter, and bronzer shades your childlike heart can handle.
1 Lip Palette
In the world of Crayola, lipsticks aren't limited to shades of pink and red.
3 Mascaras
Available in electric blue and turquoise — but also in black in case you'd rather use your brighter colors elsewhere.
4 Highlighters
Consider these the special metallic crayons of the bunch. Finally, you can paint on a summer glow quicker than you can draw a picture of you and your boyfriend.
24 Face Crayons
Available in 24 shades, including metallics, 12 lip and cheek crayons, and even 2 color-changing lip crayons, these face crayons are the stuff made of childhood dreams. With super pigmented formulas, there's no look you can't create with these. Here are some looks for serious inspiration. Hello, music festival looks.
7 Trios
Likely to be just as coveted as the big box of 50 colors, but for grown-ups, these trip packs come in seven different varieties of hues. Although, it's unclear whether this box comes with the super cool built-in sharpener that all the bougie kids in kindergarten had. Either way, I'm getting my hands on these.
The full collection will be available on the ASOS website beginning June 4, and yes, coloring outside the lines is encouraged.