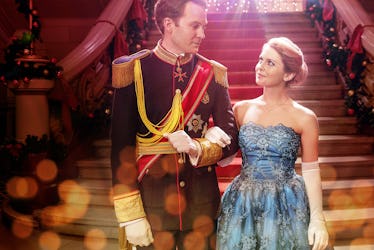 A 'Christmas Prince' Sequel Is Happening, In Case You Haven't Had Enough Royal Weddings
Netflix
It's been more than 48 hours and I'm still not over the royal wedding. Harry, Duke of Sussex, and Meghan, Duchess of Sussex, united for life in a literal fairy tale of a ceremony on May 19, and I'm still scrolling through Instagram in search of the same wedding photos I've already seen hundreds of times. The happy couple has me in search of more magical wedding stories and, as always, Netflix has my back in this quest. A Christmas Prince sequel is happening, and we have another elegant royal wedding to look forward to. It may not involve a ginger prince or an American actress, but something tells me that this wedding will almost be just as beautiful.
Hitting Netflix last November, A Christmas Prince won over viewers for its gooey, Hallmark-esque storyline of the improbable becoming totally logical in the name of holiday season love. The film followed young journalist Amber (Rose McIver) on her trip to the foreign country Aldovia to cover a press conference about the prince's upcoming coronation. When Prince Richard doesn't show up to the press conference, Amber sneaks deeper into the palace in hopes of an exclusive scoop, but she's mistaken as the new tutor for Richard's little sister, thus launching herself into the royals' everyday lives. Even if you haven't watched A Christmas Prince (and where have you been if you haven't?), it's clear that a romance between Richard and Amber is bound to play out as Amber helps the family adjust to this new chapter of their lives.
A Christmas Prince ended with Richard surprising Amber with a marriage proposal, but upon their own completion of the film, the Netflix team probably didn't anticipate a sequel. Once it launched on the site, the movie met huge streaming success as users delighted in its innocent, so-bad-it's-good vibes. Some people even binged the film over and over again, resulting in Netflix calling them out on Twitter and wondering if they were all right. Um, Netflix, let me live my life, OK?
Capitalizing on the movie's popularity and the buzz around the actual royal wedding, Netflix recently confirmed A Christmas Prince's wedding-themed sequel with a cute video showing Amber, Richard, and his family watching Harry and Meghan's festivities. TBH, I never knew how much A Christmas Prince: The Royal Wedding was needed until I saw this teaser.
According to The Hollywood Reporter, the sequel will follow Amber second-guessing her ability to be queen as her Christmas wedding approaches. Meanwhile, Richard faces a political crisis that could badly affect the future of Aldovia. Sounds like a holiday winner to me!
Netflix's clip shows the engaged couple, Princess Emily, and Richard's mother Helena watching wedding coverage together. Amber's infamously cheesy notes are back, showing her anxieties about her own big day. She's apparently convinced that Harry and Meghan already have the hashtag #RoyalWedding covered and that another royal wedding using it simply won't suffice. The need for a unique wedding hashtag is real, guys!
Next to her, Emily drops some serious knowledge of the royal family for any aficionados watching, referencing the insane hat Princess Beatrice rocked for Prince William and Kate Middleton's 2011 wedding (both she and sister Eugenie chose more subdued fashion this time around). Emily even mentions Gary Janetti's hilarious memes that pit Prince George against Meghan Markle, thus solidifying her in my eyes as being as cool as Princess Charlotte waving to crowds like there's no tomorrow.
As the trailer closes out, Richard confirms that he and Amber have their own televised wedding in store, but we have to wait until the 2018 holiday season for more stately chapels and multicolored fascinators. Following in the steps of its first film, A Christmas Prince: The Royal Wedding will likely debut on Netflix around this Thanksgiving. Seeing as Richard and Amber's love story is now paralleling Harry and Meghan's, could we expect A Christmas Prince: The Royal Baby in another year or two? Until we have clues about any more followup films, I'll keep rewatching Harry and Meghan's wedding vows on a loop.