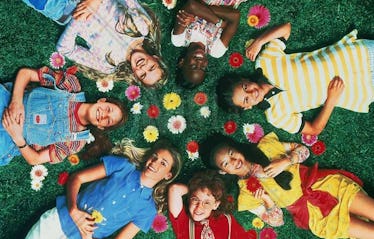 A 'Baby-Sitters Club' TV Series May Be In The Works, So Get Your Scrunchies Ready
Columbia Pictures
Everyone's favorite teenage entrepreneurs of Stoneybrook, Connecticut are on their way to coming to a television screen near you. A Baby-Sitters Club TV series may be in the works, bringing the beloved Ann M. Martin books to life yet again for fans of the classic series and a new audience. According to Deadline, the adaptation will include all the original characters (I used to be a Kristy, but I think I'm really a Mallory TBH), and its half-hour episodes are set to "broach topics from the books such as racism, divorce, and belonging while continuing to push the bar and explore relevant issues facing modern day teens."
If you have any concerns that a modern update of an old fave like BSC might spoil everything that is sacred, the team behind the new show sounds very promising. Lucia Aniello, whose credits include Broad City and Rough Night, is reportedly in the running for a director and producer spot. GLOW and Supergirl's Rachel Shukert is in talks for a showrunner position.
The Baby-Sitters Club books were originally published by Scholastic between 1986 and 2000 and became a pop culture phenomenon and a bookshelf staple for kids growing up in the '90s. Just thinking about those colorful covers makes me nostalgic.
The Baby-Sitters Club already got the adaptation treatment through TV and film projects back in the 1990s. Scholastic produced a live-action series based on the books that aired on HBO in 1990. In 1995, a big screen version was released starring Schuyler Fisk, Racheal Leigh Cook, Bre Blair, Larisa Olyenik, and Tricia Joe. The movie followed the characters as they set up a summer day camp.
Earlier this year, fans of the film got a sentimental thrill when a handful of the cast and its director, Melanie Mayron, reunited to watch the Golden Globes. The gang appears to have remained close over the years — they came together for a 20th anniversary screening in 2015 at Austin's Alamo Drafthouse.
"It's like no time has passed at all! First of all, these girls look amazing," Cook told ET in January of their lasting bond. "And I think we all trusted each other enough back then, even as young teens, to behave like our authentic selves. So for better (them) or worse (me), we're still very similar to the people we were back in 1995."
Friends forever, indeed. Maybe they'll get cameos in the new TV series?
The Baby-Sitters Club books were reissued in 2009, updating antiquated technological and style aspects in order to reach new readers. Author Ann M. Martin spoke to Forbes in 2010 about the series,' saying,
I never think my books are strictly imparting lessons, but I do hope kids appreciate their independence, their business savvy, and how they all come together in their community.
One theme is the friendship among the core girls — the fact that the BSC members were very different and yet such good friends. They were very relatable and had a sense of independence. They're all from different backgrounds and different home lives, but their friendship is ultimately very strong and pulls them together.
It's difficult to get super excited about '90s reboots in this era of entertainment recycling — it feels like a fresh one is announced daily. Over the next year, viewers will get a chance to see television hits from the decade like Sabrina the Teenage Witch and Clarissa Explain It All reimagined for 2018.
As Ann M. Martin has noted, The Baby-Sitter's Club's themes are "timeless," so hopefully the upcoming series will do the source material justice and translate to a new generation.