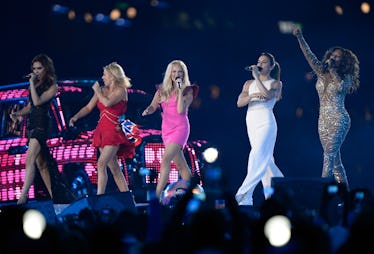 '90s Song Lyrics For Captions, Because They'll Spice Up Your Throwback Thursday Pics
Pascal Le Segretain/Getty Images Sport/Getty Images
Nothing compares to the music vibes of the '90s. If you were a kid growing up during that iconic time, you smile when those oldies but goodies bless your ears once again. When posting a Throwback Thursday, '90s song lyrics for captions will complete your Gap Kids outfit and Skechers pics from back in the day.
Personally, '90s R&B will always have my heart, and my karaoke song selections can speak to that. (Lauryn Hill is my girl.) When it comes to the '90s, though, you have no choice but to be eclectic, because so much good music across various genres hit the scene. The evidence is that you will get equally excited if "Scrubs" by TLC or "Smells Like Teen Spirit" by Nirvana come on your playlist. Both are true classics.
Your school dances were epic, and do I even have to mention the influence of the Spice Girls? Almost every '90s baby was one of the English pop stars for at least one Halloween. You can never shake these songs embedded in your childhood.
You're no stranger to singing them at the top of your lungs during your morning commute. Pandora's shuffle mode is heaven- sent, right? Whether you preferred the bands, the slow jams, or the soloists, any of these 18 captions from the decade will transport you back to the good old days.
1. "Let's fade into the sun. Let your spirit fly where we are one, just for a little fun." — Lenny Kravitz, "Fly Away"
2. "Don't be a hard rock when you really are a gem." — Lauryn Hill, "Doo Wop (That Thing)"
3. "There's no beginning and there is no end." — Mariah Carey, "Fantasy"
4. "I know just what you're saying. So please stop explaining." — No Doubt, "Don't Speak"
5. "If you wanna be my lover, you gotta get with my friends." — Spice Girls, "Wannabe"
6. "Cause it's a bitter sweet symphony this life." — The Verve, "Bitter Sweet Symphony"
7. "No, I don't want no scrubs." — TLC, "No Scrubs"
8. "Hey now, you're an all-star, get your game on, go play." — Smash Mouth, "All Star"
9. "And all the roads that lead you there are winding. And all the lights that light the way are blinding." — Oasis, "Wonderwall"
10. "I'm a Barbie girl, in a Barbie world. Life in plastic, it's fantastic." — Aqua, "Barbie Girl"
11. "I saw the sign and it opened up my eyes, I saw the sign. No one's gonna drag you up, to get into the light where you belong." — Ace of Base, "The Sign"
12. "She'll make you live her crazy life, but she'll take away your pain." — Ricky Martin, "Livin' La Vida Loca"
13. "So make the best of this test, and don't ask why. It's not a question, but a lesson learned in time." — Green Day, "Good Riddance"
14. "I'm a genie in a bottle. You gotta rub me the right way." — Christina Aguilera, "Genie in a Bottle"
15. "I never want to hear you say, 'I want it that way'." — Backstreet Boys, "I Want It That Way"
16. "You gotta get your groove on, before you go get paid." — Montell Jordan, "This Is How We Do It"
17. "You turned my life around. You picked me up when I was down." — K-Ci & JoJo, "All My Life"
18. "Now I believe in miracles and a miracle has happened tonight." — Michael Jackson, "Black or White"