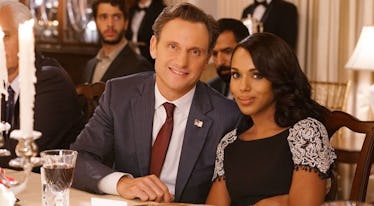 9 TV Shows That Feature Off-Limits Love Stories, So Grab The Popcorn & Marathon 'Em ASAP
No matter how forbidden they might be, romances that you know should not be happening can be steamy AF, and some of the hottest TV shows to ever grace the small screen show just that: forbidden love. Seriously, knowing that two people shouldn't be together but they DGAF and are doing what they want anyways makes the relationship way hotter to watch. These TV shows that feature off-limits love stories portray them perfectly.
For the most part, watching television romances is fun and exciting, and a majorly huge turn-on when all of the actors are as attractive as they tend to be. You end up rooting for them even though you know that IRL, their relationship would be all sorts of effed up. But, a big factor in all that sex appeal is the fact that the romances being depicted are off-limits in one way or another. Whether it's a forbidden love between rivals or a couple breaking their company's rules by dating each other, these relationships are seriously worth all the hype (and maybe some scrutiny).
Regardless, this list of television shows featuring off-limits love stories will give you all the marathon-watching inspiration you need to get you through the rest of this year. So fire up those Netflix accounts, because you're going to want to watch every episode.