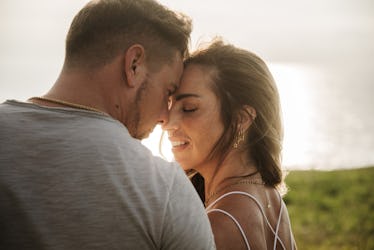 9 Things You Shouldn't Say To A Bisexual Woman In A Relationship With A Man
MarioGuti/E+/Getty Images
Remember that scene in Friends where Phoebe sings, "Sometimes men love women, sometimes men love men. and then there are bisexuals, but some just say they're kidding themselves?" That's a pretty blatant example of bisexual erasure (which pains me, as someone who loves Friends). As much as I'd like to think things have changed since this episode aired in 1996, bi negativity is still prominent today. I would know; I'm a bisexual woman married to a man. Being in a loving, committed relationship with a man doesn't erase my bisexuality.
My husband knows I'm bisexual, as do my close friends. I count myself lucky that they understand, respect, and support my orientation. But I'm assumed to be straight by most other people — like when new acquaintances will see my wedding ring and ask how long I've been with my husband without considering what my orientation might be. And when I do choose to share that I'm bisexual, I'm often met with confusion or dismissal due to my choice in life partner. It turns out, I'm not alone in that.
"Bisexual people face some of the most ostracization and criticism of any sexual orientation," says Dr. Laura McGuire, a nationally recognized sexuality educator, trauma-informed specialist, and inclusion consultant. "There are many myths and misconceptions about bisexual people, and despite decades of education, many members of both the general public and LGBTQ community still seem to believe them."
A 2016 report from the Centers for Disease Control and Prevention (CDC) surveyed 9,175 adults aged 18-44 about their sexuality and found 5.5 percent of women and 2 percent of men said they were bisexual. Meanwhile in that same survey, 1.3 percent of women and 1.9 percent of men identified as "homosexual, gay, or lesbian." More than half of LGBTQ are bi, according to the Movement Advancement Project.
Even so, the American Psychological Association wrote in 2017 that "many [still] believe that bisexuality does not really exist, and bisexual people suffer bi-invisibility or erasure and bi-negativity from both the lesbian and gay community and the heterosexual community."
Bisexual Awareness Week (also known as #BiWeek) starts on Sept. 16 and runs through Celebrate Bisexuality Day (also known as #BiVisibilityDay) on Sept. 23 each year. So, now seems like the perfect time to learn about some inappropriate, all-too-common statements and stereotypes that contribute to biphobia, bi invisibility, and bi erasure, particularly as they relate to bisexual women in mixed-orientation relationships.
If you catch yourself thinking or preparing to say any of the following to a bisexual woman, it may be worth reconsidering your words — here's why.