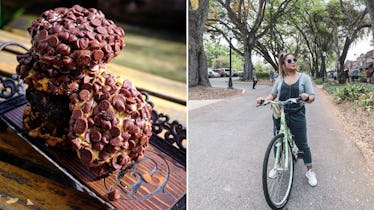 I Spent A Weekend In Orlando Without Going To A Single Theme Park & Didn't Miss Them At All
Gideon's Bakehouse / Kristin Corpuz
Having grown up in Tampa, Florida, I thought that I was an Orlando expert. I went there every weekend for half of the year with my family, and enjoyed a Florida resident discount on annual passes to both Disney World and Universal Studios. But until I recently traveled back to Orlando, I didn't realize that there were so many things to do in Orlando without going to the theme parks. I was pleasantly surprised and realized that the city and its surrounding suburbs have so much more to offer.
My weekend-long trip included mini tours of both Winter Park and Winter Garden, which lie just outside of Orlando. I did everything from exploring a farmers market, to wine tasting at a local winery, to even taking a scenic boat tour on three of Central Florida's lakes.
The next time I want to go home to visit my family and we decide to take a day trip to Orlando, I now know of so many other things that we can do outside of the theme parks — and I bet you anything we'll have just as much fun. So, if you're thinking of heading down to the Sunshine State for a vacay anytime soon, consider exploring Orlando and its suburbs for some relaxing fun in the sun. You definitely won't be disappointed.