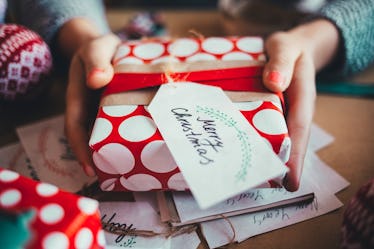 9 Ideas For Secret Santa Gifts That People Would Actually Be Excited To Get
There's something about the holidays that makes giving presents so much more exciting than receiving them. I save up all year so I have money to blow on Christmas gifting because, in my opinion, there's nothing better than the animated look on someone's face when they're unwrapping. Anonymous gifting, however, can be a little more challenging. Coming up with creative Secret Santa gifts everyone wants can be tricky, especially if, for instance, you're buying for a co-worker you don't know much about, or a friend of a friend who got tossed into the pool at the last minute. Just remember, you don't have to splurge to score brownie points with the receiver; there are a ton of goodies out there to gift.
Plus, Secret Santa swaps aren't meant to be competitive anyway. Office settings in particular tend to organize them for the sake of bonding with one another, so you'll buy a gift, get a gift, and maybe even form a new friendship to kick off the new year. If your squad opted to gift Secret Santa-style this year, odds are you have a pretty good idea of what to scope out.
But if you're honestly at a loss and have no idea what to buy your pick of the draw, no worries! Here are a few ideas to spark inspiration, or snag for your receiver.