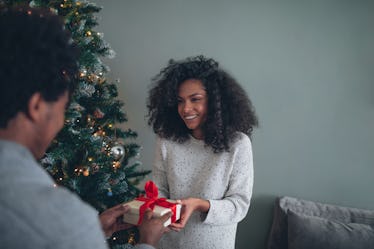 9 Personalized Christmas Gifts That'll Mean The World To Your Loved One
Seeing as how I'm basically the female version of Buddy the Elf, I will be the first to say the holiday season is the most wonderful time of the year. But, let's be real, it's also the most materialistic. This isn't me trying to come off as a martyr; as much as I love giving, I also love getting (packages from Lululemon, for example, are a personal favorite). But there really is nothing better than receiving personalized Christmas gifts that you know were genuinely well thought-out and made with love.
No offense to those who love monogramming everything they can get their hands on, because initials are great and all, but there are only so many pens, stickers, and notepads a girl needs with her name on it, you feel me? Personalized Christmas gifts don't necessarily translate to fancy lettering emblazoned on office supplies anymore (thank goodness), so let's move past that cutesy (cheesy?) trend of the early 2000s and embrace the new and improved age of customization. Like I said, monograms are fine, and they can be quite lovely when executed tastefully, but we can do better.
Maybe this is the retail industry's way of responding to its customers (smart), but millennials are picky AF, and we're seeing a lot more brands releasing products that can be tailored to our preference. From standard concepts like charm bracelets to a unique spin on hair care, browse through these personalized Christmas gifts that are sure to wow your giftee (and score you a spot on the nice list).