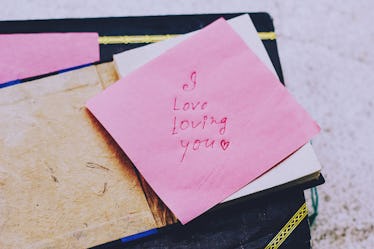 9 People Reveal The Cutest Love Letters Their Partners Have Written Them, & Now I'm Crying
You can tell your significant other you love them a million times, but sometimes, just the words "I love you" can't possibly do justice for how you actually feel about this person. I mean, how could three simple words ever capture the depth of emotion you feel toward the one person you chose over everyone else on the planet? There's just no way. So sometimes, we have to write down how we feel to really accurately depict what's in our hearts. In a recent Reddit AskWomen, ladies shared the cutest love letters they've ever received from their baes, and I'm not crying, you're crying.
Before I let you go forth and read, let me just tell you my favorite thing about these. Every single one of these love letters is totally different. Each one tells its own unique and beautiful story about the unique (and beautiful!) love each couple shares. Read along and prepare your heart to fill with love and joy. You're going to need a several tissues, or rather, several boxes of tissues. Good luck.