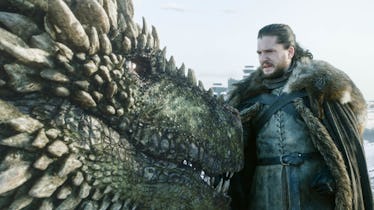 9 Hidden Details In The 'GOT' Season 8 Premiere You're Going To Want To Read About ASAP
HBO
Game of Thrones is one of those shows where easter eggs and callbacks abound. Based on the A Song of Ice and Fire novels, the series has slowly diverged from its ultra-faithful to the source material first season. But that doesn't mean it's not totally throwing out the ability to reference the text, whether it's using Harry Strickland and the Golden Company (who have a different purpose in the novels), or having Cersei obsess on elephants. But these hidden details in Game of Thrones Season 8 episode 1 are the ones fans loved the most because they all call back to the pilot episode.
The Game of Thrones pilot was the first introduction to the world of Westeros, and the first time fans got a look at if the show would be able to translate the source material to screen. It may not be an hour that makes the series' Top Ten, but it is a brilliant way to establish the dozens of lead characters all introduced in the first fifty minutes of a now 68-hours-and-counting series.
With the show ready to bring it all to a close, let's look at how everything came full circle and the end is the beginning is the end.