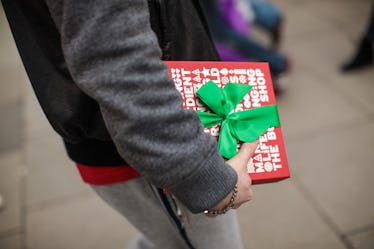 9 Gifts That Give Back, To Make The Holidays Brighter For Everyone
Jack Taylor/Getty Images News/Getty Images
Is it just me, or is December flying by faster than I ever thought was possible. We've found ourselves in the throes of the holiday season, with Christmas fast approaching at just six (!!) days away. So if you're still scrambling and shopping around for presents, why not spend your hard-earned dollars buying gifts from charitable companies that are committed to giving back? Here we present to you your ultimate holiday gift guide for gifts that give back.
Because in times of strife, it's nice to know that giving a gift is bringing a little joy to someone besides the person who gets to unwrap it.
"It's nice for people to know that the gift they're receiving has added value," Catie Marron, the founder and CEO of Project For Good, told Elite Daily. Marron knows all about giving back — her website aims to connect online consumers with "more-than-profit brands" that both give back to the global community, and create top-notch products made from the best possible resources. "It's nice for people to hear that what they're getting has more to it than what's on the surface."
Marron had some advice on how you can be sure your purchase will be going towards a good cause. And the answer is simple — transparency. "When a company says they're giving a portion of their proceeds to whatever cause, that's a red flag," she says, "Companies that outline how much of their proceeds or gross profit go to their chosen cause, or tell you exactly what they're giving back [ex: for every pair of shoes purchased, a pair is donated] you can be sure that's what they'll do." She suggests to look out for stores that engrain "giving back" into their company mission. That way you can ensure that the company is committed to their cause all year round, and not just during the holiday season.
In that vein, Marron picked out a couple of her favorite companies to buy from that give back in a major way when looking for holiday gifts:
This company makes high-quality socks that donates a pair to homeless shelters when a pair is purchased. Socks are the top requested clothing item at homeless shelters, and Bombas is committed to helping serve that need.
DIFF Eyewear carries extremely fashion-forward sunglasses and sells all the trendiest frames for whatever the season. (Khloe Kardashian even designed a line for the company!) and the above sunnies are my personal favorite and a site bestseller. The best part? DIFF will donate a pair of eyeglasses to a person in need for every pair sold.
In the spirit of looking for charitable gift options, I also took the liberty of doing my own research — and found some amazing gift ideas that give back to some very worthy causes. Here are a handful of my favorites:
MY SISTER is an amazing clothing company that's committed to fighting sex trafficking by creating ethically-sourced products that make a bold statement. At minimum, 10 percent of the company's product proceeds are donated to a non-profit partner, MN Girls Are Not For Sale, that aims to prevent trafficking and raise awareness to the cause. So far MY SISTER has raised $104,000 — and counting!
Love Your Melon is a company that supports children that are battling cancer. The accessories company gives hats to children battling cancer in the United States, while also donating 50 percent of their product profit to their nonprofit partners like St. Jude's Children's Hospital.
The Lariat collection from ADORNIA is seriously unique and the perfect jewelry selection to choose from for any cool girl on your holiday shopping list. Every piece from the Lariat collection donates 10 percent of profits to different charity focused on female empowerment each month — through the end of December, donations will be going to the Rape Abuse Incest National Network (RAINN), per the site's blog.
The 100% Human Collection was launched by Everlane to promote human rights and equality. For every 100% Human product sold, $5 of that sale is donated to the ACLU.
There are no shortage of gift options that you can find on BoxLunch. The chain carries every single pop culture item that you can think of. You can seriously find any novelty Harry Potter or Star Wars product for all the mega-fans on your list. But the best part about BoxLunch is that it partners with the hunger charity Feeding America so that for every $10 spent, BoxLunch helps provide a meal to a community food bank that feeds people in need.
LUSH is already known to make all of their products 100 percent vegan, meaning there are zero animal products use and they do not test on animals. But their Charity Pot Lotion is special, in that 100 percent of the proceeds are donated to small grassroots organizations working in the areas of environmental conservation, animal welfare and human rights.
TOMS is a classic choice if you're looking for a gift that gives back, for both men, women, and kids. For each pair sold, a pair of shoes is donated to a community in need. And the company has some seriously cute styles available for purchase now, which is a major plus!
I'm the type of person who loves giving gifts, especially when I find something so personal and perfect for a specific person on my list. But a way to make a gift all the more special is to purchase from companies committed to giving back.
Check out the entire Gen Why series and other videos on Facebook and the Bustle app across Apple TV, Roku, and Amazon Fire TV.