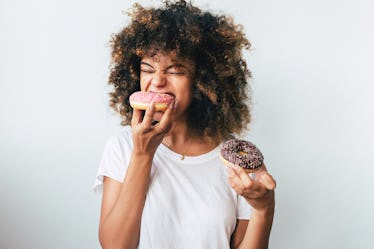 9 Gifts For the Foodie In Your Life Who's Always Whipping Up Something Special
Every friend group has its own designated foodie. They're the friend you invite over for dinner because somehow they can make a five-star meal from a can of beans and bag of stale corn chips. They're the ones who live for the next big superfood fad, and you better believe their Instagram feed will feature the bruschetta Benedict they ordered at brunch. In my opinion, finding gifts for foodies around the holiday is super simple, because literally anything that's edible or represents their appreciation for food is a solid win.
Trust me, I'm speaking from experience here. I've become that friend who is constantly playing with her food, experimenting with recipes, and posting my culinary, genius (OK, amateur-status) dishes on social media. (If you don't believe me, one of the top-tier items on my wishlist this year is literally just a gift card to Whole Foods.) And yes, I do get a kick out of graphic tees and sweatshirts that nod to anything avocado, peanut butter, and eating plants.
Here's a pro tip: Chances are, if your friend's a foodie, the research has already been done for you. Scroll through their social feed and Pinterest boards, take note of their favorite dishes and snacks, and go from there. Here are a few food-inspired presents to gift your foodie fanatic this holiday season, but if you're still unsure about what to buy, treating them to dinner or a latte is always an option, too!