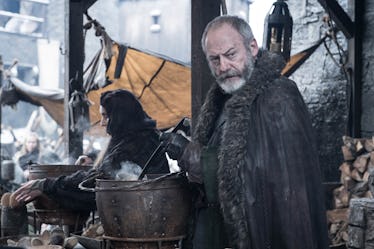 9 'Game Of Thrones' Season 8 Easter Eggs That Will Give You Winterfell Chills
HBO
Game of Thrones has always referenced back to the source material, no matter what. But over the seasons the references to the A Song of Ice and Fire novels have become harder to spot, as the show ran out of book material to use. Instead, the show is starting to reference its own history in the final season. These Game Of Thrones Season 8 easter eggs from the second episode, "A Knight of the Seven Kingdoms," are a reminder of just what a rich history the show has to draw from.
Of course, last night's most significant book reference was the "Jenny of Oldstones" song. In the novel A Storm of Swords, where it is originally sung, it's merely known as "Jenny's Song." Like last year's song with Ed Sheeran, this was a tune that should have been part of Season 3 but hit the cutting room floor when the show streamlined down the novel's' plotlines and characters to fit everything into a ten episode season.
But while everyone may be downloading Florence + The Machine's version of the song this week, it was far from the only callback in the episode. Let's run down all the reference the show made.