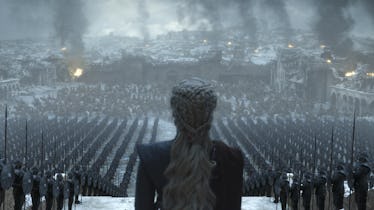 9 'Game Of Thrones' Finale Easter Eggs That You Definitely Didn't Catch
HBO
For the last time, Game of Thrones dipped into the world of A Song of Ice and Fire, with the series finale "The Iron Throne." Season 8 began with an episode where the series called back to the pilot episode over and over, bringing the show full circle. In the series finale, once again the script recalled moments throughout the Game of Thrones' run (and a few book nerd moments too.) These Game Of Thrones finale easter eggs are a reminder of how the series built up to this moment.
Some of the callbacks weren't even that obvious. Sansa, for instance, wears a coronation gown that feels like a summation of everything in her life, Tully Blue for her mother, red weirwood leaves for her father, a crown that echos Cersei's tiara, in a shot that recalled when Jon Snow was named King in the North. Direwolves adorn her tiara's peak and her cape.
And finally, for the first time, she wears her hair completely unbraided, a sign of not following anyone's style at all. After years of always styling her hair to reflect the powerful women around her, Sansa has settled on her own style: Queen in the North.
Here are some other easter eggs you may have missed.