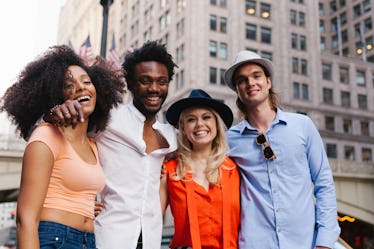 9 Easy Ways To Make New Friends When You Move To A New City
Have you ever heard the saying, "Humans are creatures of habit?" Well, if you've ever noticed that your morning routine hasn't strayed much since your high school days or that you continue to do your makeup in the same order, no matter what, then you know that statement to be all too true. So, moving to a new city, away from what you are used to, is nerve-wracking for a ton of reasons. It's especially stressful if you are going alone. Luckily, there are easy ways to make friends in a new city, but you just need to venture out of your comfort zone a bit.
The transition can be a little tough. Not only are you dealing with the aspect of missing your old life and friends, but on top of that, you may feel lost when it comes to meeting new people. If you live with a roommate or have acquaintances or people you know in your new town, it's a tad easier. But if you're living alone and don't have community areas to venture to, it's going to be a bit more work. But it's still absolutely possible, and moving to a new city opens you up to so many new, exciting opportunities. With these foolproof ways to make a crew of new friends, you'll thank yourself that you put yourself out there.