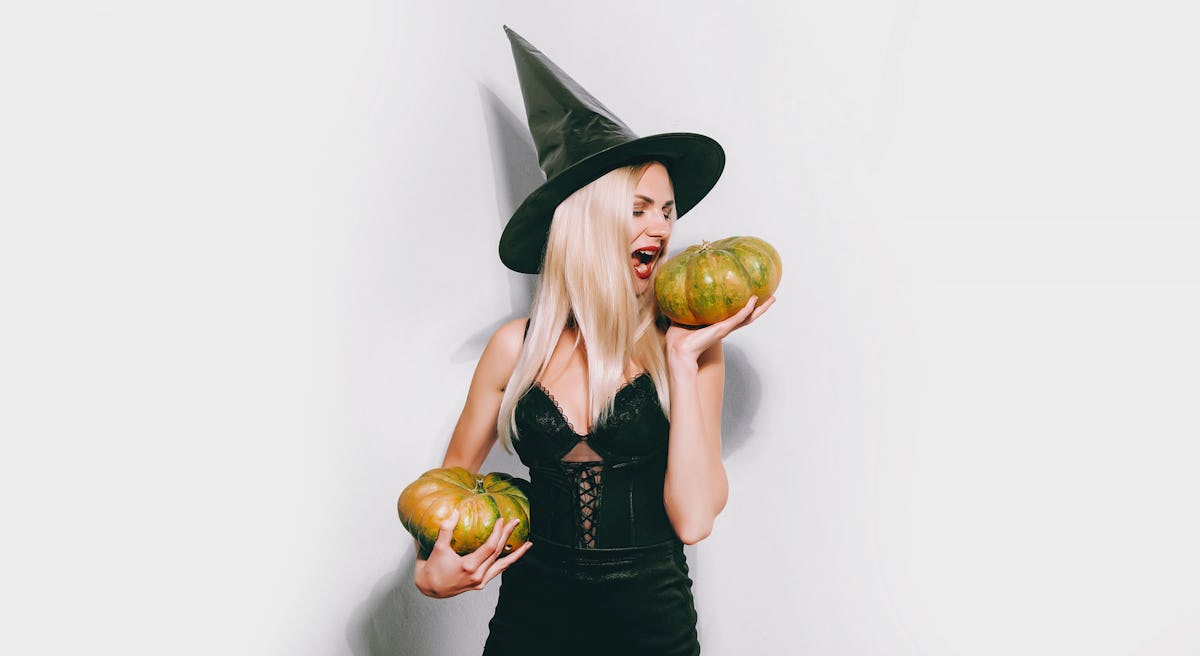 9 Halloween Costumes To Wear With Jeans That Are Foolproof & Cute At The Same Time
vvmich/Fotolia
Even though it's pretty much a sin to not dress up for Halloween, it can be hard to find the motivation on a cold October night. Especially since the holiday falls on a Tuesday this year, you may not have the same opportunities to dress up as you would on a weekend. Thankfully, there are plenty of easy Halloween costumes with jeans that you can put together pretty quickly. You can make a costume with what you have in your closet, as long as you're willing to get creative.
With some inspiration and a creative mind, before you know it, you'll be able to come up with an easy costume in no time. Plenty of your fave TV and movie characters wear jeans on the regular (or something that looks like jeans), and you can tone down any other costume to include your favorite pair of denim. At the very least, you can put on a solid colored shirt and a pair of animal ears, and call it a day. As long as you're dressed up at least a little, you can call your makeshift costume a success. Here are nine easy Halloween costume ideas that revolve around your go-to pair of jeans.
1. Scarecrow
This is a great example of a costume you can put together entirely with things from your closet. All you need is your jeans, a cute pair of boots, a flannel, and a floppy hat to complete the look. The makeup or face paint is what really pulls the look together, and there are a bunch of easy scarecrow makeup tutorials on YouTube.
2. Where's Waldo?
You won't have to hide in this costume. It's simple, comfy, and appropriate for just about any environment. You just need a striped Waldo hat and shirt to complete the look.
3. Rosie The Riveter
Odds are, you can put this look together from items in your closet as well. A light blue button up and some dark wash jeans build up the costume, and the red bandana in your hair completes it. Don't forget that gorgeous red lip.
4. Lumberjack
If you have a flannel and jeans, you've got a solid lumberjack costume. Boots would look best with this look, but you can pull it off with anything, you fashionista you. The fake beard is not required.
5. Cowgirl
This is another simple style you can put together in minutes. Your best flannel and boots are absolutely necessary, and any fringe you have will just add to the look. Shop around for the perfect Western cowboy hat, and you'll look like you came right from the rodeo.
6. Biker Girl
Pull out your fave pair of black jeans for this edgy costume. Basically, just wear as much black and leather as possible, add a bandana, and you'll be set. Some winged eyeliner will give you that retro 50s vibe too, if you're into that sort of thing.
7. Arthur
If you're a meme queen, you can put together this newly iconic look in a matter of minutes. All you really need are the jeans, a yellow sweater, the white collar, and some glasses. Bonus points for homemade aardvark ears.
8. Pirate
Adding some skinny jeans to a pirate costume is a great idea so you won't get too cold. While this Twitter user wants to opt out of the jeans when Halloween comes around, I happen to like this look a lot. Pirates don't exactly need to follow every fashion rule, anyway.
9. Cat (Or Other Animal Of Choice)
In the end, you'll be fine if you put on some animal ears. Of course you can take some extra steps toward styling up your outfit and purr-fecting (I'm sorry, I had to) that feline aesthetic. Adorable cat ear headbands are all over these days, so you're sure to find something to match your style.