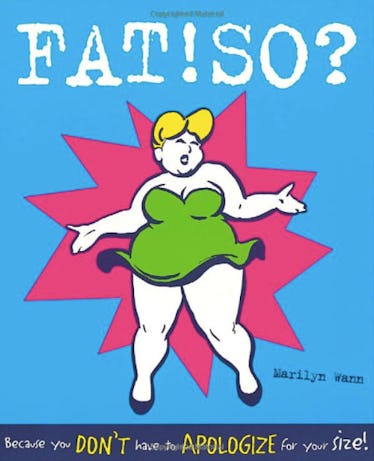 9 Books That Will Help Heal Your Relationship With Your Body
Amazon
The first time I picked up a copy of Marilyn Wann's Fat! SO?, I opened it up to a page featuring a collage of bellies. Some of the tummies were flat, others hung low, and others featured rolls and stretch marks. What struck me about the image was that none of the stomachs seemed to be framed as superior or more attractive than any other. They all simply existed: at once ordinary, and yet so extraordinary. This was the first book that helped help heal my relationship with my body.
A couple of years ago, I came across a deeply troubling statistic. In the United States, 10-year-old children are often more afraid of becoming fat than they are of getting terminal cancer, or of losing both of their parents. In retrospect, I shouldn't have been surprised. As someone who struggled with disordered eating and a fitness addiction for years, all in the aid of acquiring the elusive thing that is "ideal beauty," I'm familiar with fractured body image. I know that Western culture, by and large, practically demands self-hate, especially of women, and especially of women who do not meet the thin, white, able-bodied mold of acceptability.
Radical voices in fat liberation and positivity have been essential to my deconstruction of weight bias and body shame, both internalized and externalized forms of it. Thankfully, we live in a digital age that allows us to find these voices with relative ease. Whether you are a fan of photo activism, painting, podcasting, blogging, 'Gramming, or creative nonfiction, there are sources for inspiration everywhere. If, however, books are your preferred means of having your mind blown, then the following nine are a great starting place on the road to healing.