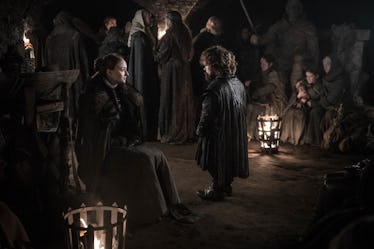 9 Battle Of Winterfell Easter Eggs You Probably Missed On 'Game Of Thrones'
HBO
Game of Thrones Season 8 is closing itself out in style. The series has spent the first two episodes calling back to itself, and specifically its first season, as part of the run-up to say goodbye. The newest installment, "The Long Night," was a little different. As the show's peak battle hour, it was less concerned with callbacks and more concerned with moving the plot forward to its inevitable end. However, there were still enough Battle of Winterfell Easter eggs scattered throughout the episode for fans to feel like everything this season is coming full circle.
Of course, this week was Arya's week. Even if she hadn't been the one to take down the Night King, the show has spent seven seasons teaching her how to fight, and all of that training was put to good use in this episode. Nearly all her fight choreography was pulled from earlier episodes, be it Season 1 water dancing, Season 4 Hound training, Seasons 5 and 6 Faceless Man training, or the hybrid style of all these different methods which she used on Brienne in Season 7. From the Waif to Syrio, Arya was a product of her training.
But those weren't the only callbacks this week.