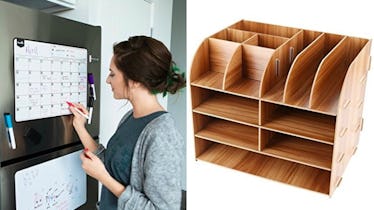 If You Have A Type A Personality, You Need These Amazon Products In Your Life ASAP
Amazon
If you have a Type A personality, then you probably know it by now, since everyone in your life has likely been commenting on it for years. You like to keep things tidy and organized, and you probably prefer a structured routine over messy spontaneity — but you might not have all of the products for Type A personalities that allow you to get things done the way you want to as you go about your day-to-day. Come on, you know you can't resist shelling out a few dollars here and there for some goodies that help you stay as productive and efficient as possible.
Even if you don't have a Type A personality, then you probably know someone in your life who totally does, who could use a little bit of love and support in the never-ending quest to get things "just right" in their daily routine. Type A personalities often feel an urge to be in control of their surroundings, but since that can sometimes be an impossible task to accomplish, it might be nice to offer the Type A friends in your life some thoughtful support along the way.
Type A personalities are all about organization, efficiency, and cleanliness, and if that sounds like you, or someone you love, these nine Amazon products need to be added to your cart ASAP.