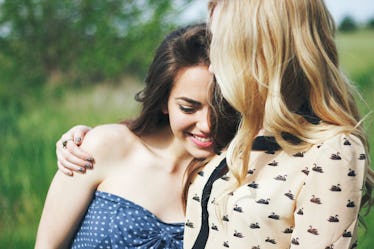 The 8 Best Ugly Cries You'll Have With Your Friends, So Break Out The Waterproof Mascara
Think about the last time you had a group effort ugly cry. It was that moment when you thought you were quietly whimpering, but then your face decided to completely bawl and crease up in order to complement your already runny nose and smeared mascara. When you looked around, everyone else's face was doing the same. Those ugly cries you have with your friends make your relationship so much stronger, because if anyone would willingly hug you ever-so-tightly while getting eyeliner on their brand new shirt, they're keepers.
Ugly cries are usually sparked from an emotional AF situation that causes a chain reaction. First, your eyes squint tightly, then boom, Niagara Falls is running down your cheeks. This amplifies when it's you, your friends, and all of those emotions going around in the same room. Of course, Drake couldn't make it to the ugly cry party, but you and your girls are fully submerged in your feelings.
Sure, there are instant things that trigger an ugly cry, but it's the silent things that just sneak up on you that you have to worry about. One second, you're hugging your friend and the next, you're scouring the room for your another box of tissues. I can't give you a play-by-play of when these ugly cries will take over your friend group, but these eight instances are seriously the best ones that could ever happen.