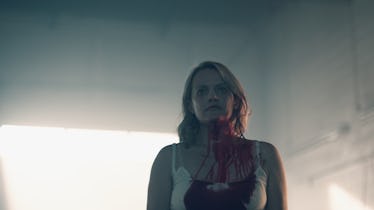 8 'The Handmaid's Tale' Season 2 Spoilers That Will Make You Want To Smash The Patriarchy
Hulu
The Handmaid's Tale Season 2 is just around the corner, preparing to take fans back to Gilead and the horror of a dystopia that our own society had flirted with edging towards. Last season ended on a cliffhanger, as the Handmaid Offred (Elisabeth Moss) was taken away in a black van to destinations unknown. So, what is known about the upcoming season? Hulu has kept spoilers tightly under wraps, but there are more The Handmaid's Tale Season 2 spoilers out there than you might think.
Last season didn't just end with Offred's maybe-ride to freedom. It also basically ended where the book ended, save the epilogue. That means there's no more source material to directly pull plot lines from. There's only reference material to build anew. This is exciting because we'll get to explore places and people who are outside of Offred's immediate purview. It also means the show also gets to dive into stories which couldn't have been told in 1985 when the book was written, because they didn't exist.
But don't worry, fans of the epilogue, the show hasn't forgotten about it. For those who haven't read the book, it's a time jump, taking place 200 years later in 2195, as Professor Pieixoto looks back into the recorded history of Offred, supposedly made well after the time of Gilead's fall, to help understand what happened. Exactly how the show plans to work that in remains to be seen, but the production promised it will be referenced down the line.
As for other spoilers: