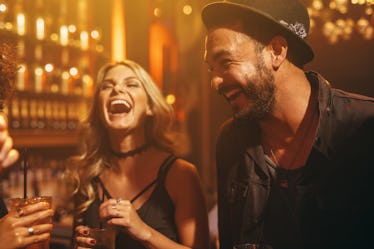 8 Telltale Signs You're The Worst Wingwoman In The History Of Wingwomen, Girlfriend
Being a wingwoman is a lady's way of trying to help out a friend. And while the role has nothing to do with aviation, some of us still manage to crash and burn when we take flight. It's not our fault, but you'll know the signs you're a bad wingwoman, because things will always seem to steer off course and you're left awkwardly sipping your Cosmopolitan alone at the bar.
When you're not the best wingwoman, it's like your good intentions are there but they're not enough to let you soar to victory. It's almost like your wings are clipped once you're in full swing of attempting to reel one in, and you do more damage than if you would have just stayed put. These wingwoman catastrophes make for hilarious stories, because at the end of the day, it's all in good fun.
It takes charisma and wit to be a successful wingwoman, and you definitely have all of those things, but for some reason when it's go time, you're left flapping for dear life. Normally, your ladies will tell you if you're not the best wingwoman, but if you're in denial of your lack of skills, then you won't be able to check off the boxes next to any of these signs.