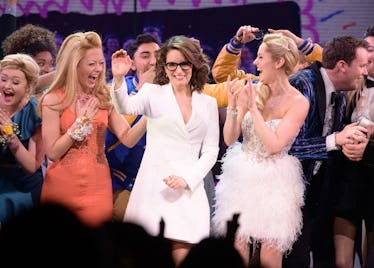 8 'Mean Girls: The Musical' Lyrics That Are Perfect For Your Next Instagram Caption
Noam Galai/Getty Images Entertainment/Getty Images
Mean Girls fans have been quoting the teen movie favorite for over 15 years for a reason. From "that's so fetch" to "grool" to "your hair looks sexy pushed back," Tina Fey's screenplay is practically a part of our everyday lexicon. Can you imagine a world where the phrase "I'm not like a regular mom, I'm a cool mom" didn't exist? Well, now that's it 2018 and we have a whole new roster of funny lines to pull from. Mean Girls: The Musical lyrics need to be on your radar.
The Mean Girls musical premiered in Washington, D.C. last October and hit the Broadway stage just this April. Now it's a 12-time Tony nominee, up for Best Musical and Best Book of a Musical (Tina Fey strikes again!). The original Broadway cast recording soundtrack won't be available digitally until May 18, but that doesn't mean you can't get into the songs now. In fact, some of the lyrics are perfect for your next Instagram caption. They range from the empowering to the Plastics-approved hilarious and will make you want to get into musical theater even if that's not your thing.
1. "If the other ducklings think you're ugly it's because they've never seen a swan. It takes all kinds of people who need people. So find people you can bare. Go find your group, your herd, your flock."
This quote from "Where Do You Belong?" is a great caption for a group shot of you and your best friends looking all confident when you're sick of using "squad goals" or the Mean Girls movie favorite "you can't sit with us" sounds too exclusive.
2. "Every person in school's aware of her stare. When she tosses her hair they go perfectly still."
Although they're talking about queen bee Regina George, these lyrics from "Apex Predator" can be applied to any photo where you're feeling exceptionally fierce.
3. "This is modern feminism talking. I expect to run the world in shoes I cannot walk in."
In the kind of mood where you can take on anything? Or is it just Halloween? The lyrics of "Sexy" make up your new favorite anthem about being whatever you want to be, even if that's a "sexy mouse."
4. "You can't buy integrity at the mall and it's not for sale."
Words of wisdom from the show-opening tune, "A Cautionary Tale."
5. "Everybody has opinions but it doesn't make them true. What's true is being me. And I'd rather be me. I'd rather be me than be with you."
"I'd Rather Than Me" is Janis' advice about a very important concept to live by: be yourself. If you're feeling particularly Janis-y, this is your jam and these lyrics might just describe your IDGAF vibes.
6. "Smart with math, but stupid with love. I didn't get it 'til now."
"Stupid with Love" is about... falling in love. It's often hard to put into words unless you're Taylor Swift or John Keats, but that's what hilarious Broadway musical lyrics are for.
7. "He's like someone from T.V. He's like that guy who gives out roses to those women."
Another one from "Stupid with Love" that's not only a reference to reality television — it can act as a jokey compliment when you're trying to caption a nice snap of someone (or yourself).
8. "Plastic don't shine. Glitter don't shine. Rhinestones don't shine. The way you do."
The lyrics from "I See Stars" are like tailor-made Instagram inspirational quotes. Sometimes sending out feel-good messages that empower and motivate is just what we need. I know, right?