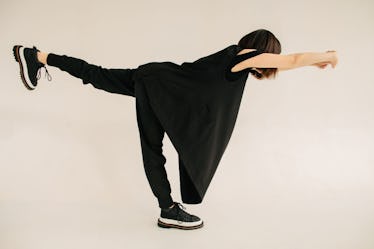 8 Leg Workouts That Aren't Squats, If Dropping Low Feels Lousy
Sergey Filimonov, Stocksy
If you could choose one body part to never have to exercise again, what would it be? If you just envisioned sets on sets of sweaty squats, and dreamily opted out of leg day forever, I can relate. Leg day does have a bad rap, but what if I were to map out a leg day that never required you to drop it like a squat again? That would be quite the game-changer, right? Well, as it turns out, there are plenty of leg workouts that aren't squats, so gone are the days when exercising your bottom half basically just translated to getting low at the gym.
Seriously, what is it about squats that you and I love to loathe? Is it the way they make your knees ache, how your legs tremble after only two sets, or the very real struggle it can be to find a pair of leggings that are actually squat-proof? Regardless, there's no denying that squats get the job done, but there have to be other leg exercises out there that are just as, if not more effective, without the hassle, right?
If after weeks, months, even years of squatting, you still have not mastered or aren't totally comfortable performing the move, rest assured your leg days are not doomed, my friend. You can still strengthen and tone your lower body, sans squats. To find out how, I reached out to a few fitness trainers in hopes that they'd share their favorite squat-less leg exercises. Here are some of their go-to moves.