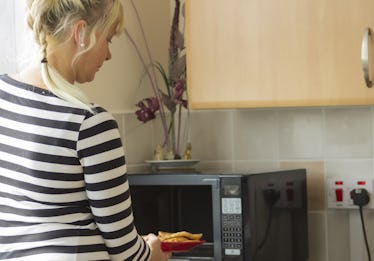 8 Cooking Hacks For College Students Who'd Do Anything To Avoid The Dining Hall
Stepping into a university dining hall for the first time as a freshman can have even the most health-conscious 18-year-old backtracking to childhood dreams of all fast food dishes all the time. There are ways to make do without a meal plan, though, and you can refer to a bunch of cooking hacks for college students that teach you how with the basics in your dorm. Foods like pizza, French fries, grilled cheese sandwiches, and endless bowls of ice cream are instant staples in a college kid's diet because they taste good, they're quick to eat in between classes, and they mop up any leftover remnants of Thirsty Thursday still swashing around in your stomach. It's great for a while, but our bodies need sustenance, and unless you're clinging to salad bar offerings and plain grilled chicken on wing night, chances are, dining hall food isn't doing it for you.
I speak from personal experience when I say cooking in a dorm is not impossible, nor limiting. And, trust me, I was at a serious disadvantage coming from a household where my mom cooked some variation of meat and potatoes or pasta dishes Monday through Friday. Sure, your mashed potatoes may not taste exactly like mom or dad's the first go-around, but with the right tools and a positive attitude, home-cooked meals can definitely be mastered away from home.
Even if you only have a limited skill set and microwave to work with, you can feed yourself, and feed yourself well. Here are a few clever hacks to get you through college without ever needing to step into another dining hall.