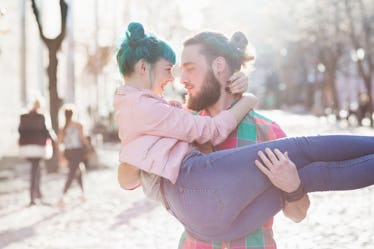 8 Brutally Honest Phases Of Realizing You're With The Person You're Meant To Be With
There is a cliche that goes around about realizing you're with the person you're meant to be with, and it's that when you know, you know. But here's the thing: Cliche or not, it's totally true. When you're with the right person, something happens on a deeper level. There is a peace and a comfort and a rightness that just seems to happen on its own. And when it happens, you realize that all that forcing you did with other people who you really liked but just seemed to stall out with, just meant they were not the right person for you — and that's OK, because there is someone else who is.
Sometimes, the realization that you're finally with the right person can feel like it came out of nowhere. One moment you're going along in the relationship, and the next, you look over and realize you want to spend your life with that person. But while it may seem like it happened suddenly, the reality is that you've gone through a handful of phases to get to that point, including dozens of tests that relationships have to hurdle over to be successful. But because the relationship has moved along so smoothly and naturally, you may not have even noted each of these relationship level signposts as you blew by them.