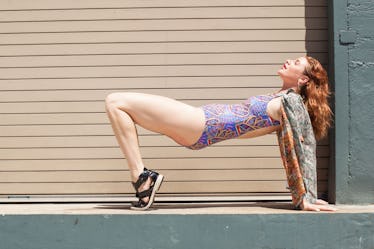 Doing These 7 Yoga Poses While You Study Will Give Your Brain The Boost You Need
Puno Puno, Stocksy
More often than not, studying can be painfully monotonous. Can I get an amen from all of my college and grad school students out there grinding? While there are various ways to make studying a tiny bit more tolerable, it never hurts to break up your study sessions with some rejuvenating movement that both stimulates and soothes the mind, and relieves some of that tension you're holding on to in your body. And what better way to do that than with some yoga poses you can do while studying? Trust me, these asanas will make your cramming — I mean, studying — so much more bearable.
"Numerous scientific studies have proven yoga can empower you to increase memory and cognitive function," Veronica Parker, a kundalini yoga teacher and meditation coach, tells Elite Daily over email. "Having a consistent and regular yoga practice can help you release stress, improve memory, and ace your tests."
While you practice these poses, Parker explains, don't forget to tune into your breath as well. "Studies have demonstrated the benefits of unilateral nostril breathing to increase oxygen and brain function."
From breathing to bodily movement, here are seven poses you won't want to skip out on during your next study sesh. Your muscles and your mind will thank you, that's for sure.