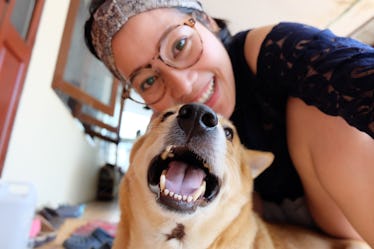 7 Amazing Ways Every Dog Mom & Her Fur Baby Can Volunteer Together
Dogs voluntarily show us the utmost loyalty, devotion, and love that anyone could ask for. If humans consistently reflected even a fraction of a dog's genuine qualities, the world would be such a better place. This is why dogs would make the best tagalong buddies to volunteer with. By thinking of ways to volunteer with your dog, it's pretty much your best bet at expressing even more gratitude toward lending a helping hand.
Because our dogs are literally the poster children for volunteering, we can actually learn a thing or two from them when it comes to dedicating our time to giving back. They never ask why, they always just do, which is literally a motto that should be hanging up on our walls. Your dog makes every selfless attempt to make your day all the more better, and you will be doing the same for other people — even strangers — if you volunteer.
Having your dog by your side will be a little reminder about what good you are doing. It will also be incredibly fun, because your dog is clearly dope and always knows how to make the best out of any situation. It's hard to be apart from your fur baby, and if you want to volunteer, you no longer necessarily have to leave them behind. There are more than a few volunteering opportunities that prove that four legs are, quite frankly, better than two.