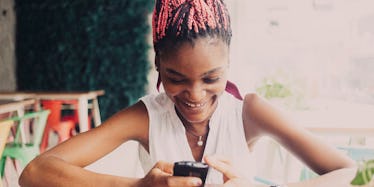 7 Things That Should Be Mandatory To Include In Your Dating App Profile
Dating is like a box of chocolates. You never know what you're going to get. That's what Forrest Gump said, right? Regardless if that's the exact line or not, it's true. Swiping and chatting with potential dates on dating apps can be a way of getting to know a person, but in reality, you could be greeted by many surprises on an actual date with them. So, I'm suggesting things to include in a dating app profile so the people you swipe on give you necessary info ahead of time. Service journalism, y'all.
When a person includes information like their religion, sports team allegiance, or how many Beanie Babies they have been collecting for years, they're giving you insight into your potential compatibility and a set of possible conversation starters. If you want a partner who shares your faith, it may benefit all involved if it were listed on their bio from the start. If you can't stand the Celtics, seeing "Boston native" alone in someone's bio may urge you against swiping. Maybe that's too petty. Or maybe it's just the right amount. For me, knowing if you're a cat person (I'm allergic) or ridiculously messy as a warning would be nice. But generally speaking, here are some things other people should include in their dating app bio that would just benefit everyone involved.