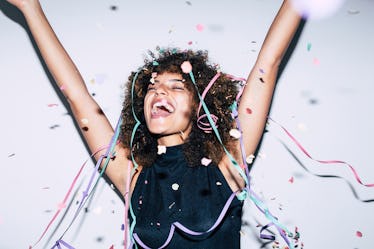 7 Things To Do On New Year's Eve Besides Standing In An Overcrowded Bar & Drinking
New Year's Eve is one of the most hyped up holidays of the year, particularly when you become an adult, and going out for drinks becomes a go-to activity most weekends. But here's the truth: There are tons of other things to do on New Year's Eve besides drink. And yes, you can still be social while choosing not to drink.
There's an old adage I personally can't stand: The way you ring in the new year represents the way you'll spend your entire year. Not only is this whole idea just vastly untrue, but it can also put pressure on a person to go out and "be social" (whatever that means) in the fear that spending New Year's Eve alone — or at something other than a party — will hurt their social life for the rest of the year.
Drinking does not have to be the central theme of your New Year's Eve celebration. In fact, getting a little creative would probably be a move your friends will appreciate in the long run. After all, drinking with friends can be fun, but there's nothing wrong with switching things up a little bit.
From mocktails to game nights to an all-out spa-cation, the options are endless when you decide to forgo alcohol for the evening. Here are seven things to do on New Year's Eve besides drink.