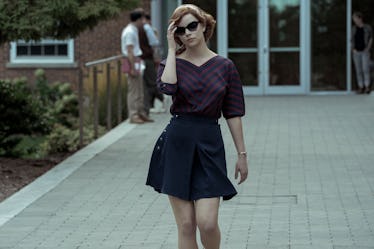 7 'The Queen's Gambit' Behind-The-Scenes Facts That Add To The Fascination
Ken Woroner/Netflix
A seven-part miniseries about a chess genius doesn't seem likely to be the next big thing in streaming, and yet The Queen's Gambit has taken Netflix by storm. The riveting story of fictional 1960s-era chess superstar Beth Harmon (Anya Taylor-Joy) is one of Netflix's biggest hits this fall. For fans who want to know what went into creating this jewel of a show, these The Queen's Gambit behind-the-scenes facts are as precious as protecting one's king.
The Queen's Gambit is based on the novel of the same name by author Walter Tevis. Tevis only wrote six books over his career, but movie buffs will definitely recognize his work. The Hustler, The Color of Money, and The Man Who Fell to Earth were all works of Tevis that were adapted into major motion pictures, each garnering Academy Award nominations. All three are now regarded as classics of their genres.
The latest of his stories to be adapted, The Queen's Gambit waited a long time to find its way to the screen, but the story has proved just as engrossing. As befitting a novel that took so long to get an adaptation, it turns out the making of the series is just as fascinating as the story it tells on screen.
Here's what you may not know about the show: