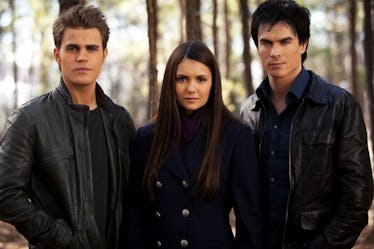 Here Are 7 Shows To Watch If You Love 'The Vampire Diaries'
Bob Mahoney/TheCW
Like most fans of the hit CW series, I didn't know true love until the day I met the Salvatores. From the very first, "hello brother," the hot immortal duo completely compelled me. But while most fans are almost always up for a rewatch of the series, if you're in search of other shows like The Vampire Diaries but aren't, for some reason, in the mood for hot, bloody vampire sex, there are other options to scratch that paranormal itch.
What made the iconic series such a hit wasn't just the gorgeous cast, the far-fetched shenanigans, or Ian Somerhalder's smoldering gaze. It was the seamless mix of adventure, fantasy, and so-hot-they-should-be-illegal hookups that instantly sucked (no pun intended) fans in. Though it's tough to rival the love triangle of Stefan, Elena, and Damon, there are other shows filled with steamy drama, raunchy romance, and supernatural adventure.
If you're aching for a new series to sink your teeth into, these seven shows are sure to quench the thirst of vampires and mortals alike. Ranging from spin-offs of The Vampire Diaries to the shows that have similar vibes to the eight-season series, here's where to look if you want some magic outside of Mystic Falls.