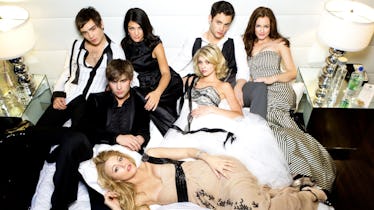 7 Shows Like 'Gossip Girl' To Feed Your Craving For Petty Teen Drama
Netflix
Hey there ,Upper East Siders. Anyone else out there craving the drama and romance of a highly unrealistic teen television show? Sure, you could hop onto Netflix and give Serena, Blair, and the gang an umpteenth rewatch, or, you could check out some other shows like Gossip Girl to watch when you're yearning for messy love triangles, far-fetched plots, and painfully hot characters.
Though few series could ever rival the pure art that is Gossip Girl, the show is the not first (or last) of its kind. When the first episode of the beloved series aired in 2007, fans immediately fell for Blair's Queen B persona, Serena's carefree party-girl vibes, Nate's chiseled good looks, and Chuck's, well, Chuck Bass-ness. Even though it's been well over a decade since fans viewers in love with these members of Manhattan's elite (and Dan, I guess), fans return to the series again and again for the hook-ups, the plot twists, and the iconic lines ("Tights are not pants!").
Whether it's falling in love with a new cast of characters for the first time or rewatching one of the classics, there's something out there for even the most discerning viewers who long for those Gossip Girl vibes, but want a change of virtual scenery.