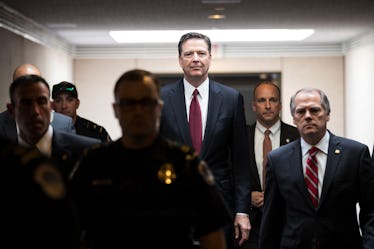 These Are The Biggest Takeaways From Comey's First Bombshell Interview About Trump
Drew Angerer/Getty Images News/Getty Images
The James Comey media blitz has begun. The former FBI director's highly-anticipated new memoir, A Higher Loyalty: Truth, Lies, and Leadership, comes out Tuesday, April 17, and will be followed by a month-long book tour — likely to President Donald Trump's chagrin. On Sunday night, April 15, Comey kicked off the press tour with an ABC exclusive (and explosive) sit-down with George Stephanopoulos, and nothing was off limits. These are the seven quotes from Comey's Stephanopoulos interview about Trump that'll raise your eyebrows.
President Trump fired Comey as FBI director on May 9, 2017, which Comey has said he learned about on the news. Trump told reporters that same day that Comey was fired "because he wasn't doing a good job," but it quickly aroused suspicion that Trump was trying to derail the FBI's investigation of Russian's interference in the 2016 election.
"Regardless of recommendation [from Rod Rosenstein], I was going to fire Comey knowing there was no good time to do it. And in fact when I decided to just do it. I said to myself, I said, you know, this Russia thing with Trump and Russia is a made up story, it's an excuse by the Democrats for having lost an election that they should have won," Trump said of Comey in a May 11, 2017 interview with NBC's Lester Holt, not exactly assuaging those suspicions.
Comey has not taken the firing lightly.
Just days after Comey was let go, The New York Times reported on a memo that Comey wrote after Trump had reportedly asked him to end the criminal investigation into former national security advisor Michael Flynn. According to the memo, the one-on-one meeting took place Feb. 14, 2017 — a day after Trump fired Flynn. "I never asked Comey to stop investigating Flynn. Just more Fake News covering another Comey lie!" Trump tweeted in December 2017.
If Comey's chat with Stephanopoulos is any indication, the next few weeks are likely to draw even more fury from Trump, who fired off a round of tweets ahead of the highly-anticipated TV interview.
In case you missed it, here are the highlights from Comey's ABC interview on Sunday, and you can find the full transcript here.