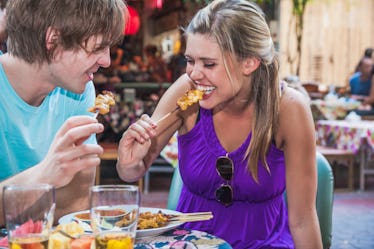 7 Most Unique Restaurants In The World Every Adventurous Foodie Must See To Believe
We need food to survive, but if you're a real foodie, food is basically a part of your identity. This doesn't mean that you're physically walking around with pieces of food on your face (on purpose), but you appreciate the miraculous world of culinary deliciousness. Exploring the most unique restaurants in the world is on your bucket list, because food really is life, and the atmosphere is part of the entire dining experience.
Food has a way of bringing people together and leaving us with an experience that fills our hearts, but most importantly, our stomachs. Unique restaurants have signed up for the task of wowing us, and we have no problem falling more and more in love with the innovative ways they've allowed us to consume our food. Honestly, it's hard to think of a fond memory that doesn't start or end with food.
Any real foodie wants to feel like they have left no scone un-turned. Food is limitless, and they want to float in that blank space of endless possibilities just to be able to say, "Yeah, I've tried that before." If we could travel the world as professional tasters, we'd already have our bags packed. Holding food near and dear is easy, but finding those extraordinary dining experiences can be tricky sometimes. Here are seven places across the globe to get you started.