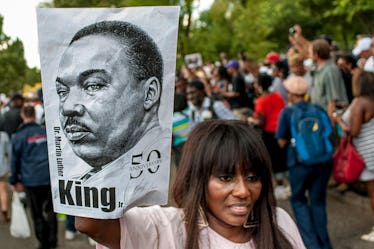 7 Meaningful Ways To Spend Your MLK Jr. Day, So It's Not Just A Day Lost On The Couch
Pete Marovich/Getty Images News/Getty Images
When I was younger, I can vividly remember always doing something on the national observance of Dr. Martin Luther King Jr.'s birthday. Whether it was attending a church service that highlighted his most memorable words or volunteering in my community, MLK Jr. Day wasn't just a day to lounge around in my mother's household; it was a day for productivity and service. And now that I'm older, I know there are other meaningful ways to spend your MLK Jr. Day as well.
Initially, the idea of a federal holiday honoring Dr. King Jr. started as legislation introduced by U.S. Representative John Conyers of Michigan in 1968, but fell short of a few votes in the House of Representatives almost 10 years later in 1979. Determined not to give up, the late Coretta Scott King and her family launched a nationwide campaign for MLK Jr. Day to gain public support, according to The King Center. Stevie Wonder then lent his musical genius and released his song, "Happy Birthday" (Yes, the black version.), to help champion the cause for Mr. King Jr.'s national day of recognition. Shortly after, six million signatures were collected for a petition to Congress, and in 1983, President Ronald Reagan officially wrote the third Monday in January as a national holiday into law. Dr. Martin Luther King Jr. Day, as we now know it, was celebrated for the first time on January 20, 1986.
Now that I'm older, MLK Jr. Day is still cherished as an opportunity to reconnect with the community, but it has also become a swift marketing tactic for boozy brunches, day parties, and even doorbuster sales for dozens of retailers. And while celebrating can come in many forms, I can't help but feel that especially during these trying political times, Americans should make time to honor MLK Jr.'s legacy, as well as the thousands of others who put their lives on the line for civil rights in this country.
So instead of catching up on the latest season of Black Mirror or This Is Us, here are a few things you can do to celebrate Dr. King Jr. and commemorate his work.
1. Give Back
To quote Dr. King Jr., "What are you doing for others?" When I lived in D.C., I volunteered on MLK Jr. Day and always secretly hoped to see the Obama family at my volunteering site (come back, Barack!). And while I never ran into our 44th president, it was still a fulfilling way to spend my day.
If you're looking for a last minute opportunity, visit the MLK Jr. Day website or Volunteer Match to find a site to your city.
2. Use Your Time Creatively
Last year, I was inspired by Dr. King Jr.'s "Letter From Birmingham Jail," and his call to action for productivity — particularly when we complain about not having enough time to do anything. (Here's to you, countless hours of scrolling on Instagram, Facebook, and Twitter.)
Art is a powerful tool of resistance, so turning how you feel about MLK Jr. Day into art and sharing it with the world is a great way to stay involved and make a political statement.
3. Stop Procrastinating And JUST START
As the notable Dr. King Jr. saying goes, "If you can't fly then run, if you can't run then walk, if you can't walk then crawl, but whatever you do you have to keep moving forward."
Remember that list of goals you created for yourself about two weeks ago? You know, the one that included getting to know your neighbors and becoming more involved in your community? This would be a great time to discover how you can lend your voice to making your neighborhood, city, or town a better place to live. Research who your local city council people are, find out when the next City Hall meeting is and make a plan to go — if not to say anything, just to listen.
4. Watch And Reflect
While the "I Have A Dream Speech" is by far one of Dr. King Jr.'s most noted speeches, he also gave a number of notable speeches, including one at my beloved alma mater, Syracuse University.
Check out Cornell University's library of Dr. King Jr.'s speeches and other related films. A prolific orator and riveting Baptist minister, Dr. King Jr. had a way of delivering messages that not only left people captivated, but inspired them to visualize a better tomorrow — even if the current moment was bleak, disappointing, and downright depressing. He had the ability to connect authentically with his audience, get his point across clearly, and to encourage everyone to be the change they wished to see.
5. Take A Day Trip To The Dr. King Jr. Memorial In D.C.
As someone who just recently moved out of The District, there's nothing like taking in the sights and sounds of the National Mall. The King Jr. Memorial, which opened in August 2011, beautifully over looks the Tidal Basin and is such a quiet, peaceful place for reflection.
According to the National Park Service, the Dr. King Jr. memorial process started in 1996, and included selecting a location for the monument on the National Mall, as well as finding a designer and sculptor for the piece. This monument was the first in D.C. to not honor a former president or commemorate a war hero. Dr. King Jr.'s presence among some of the forefathers of our country makes it clear that you don't need to win a major election or develop founding documents in order to make groundbreaking change.
6. Register To Vote
If you're like me and you've just recently moved your life from one city to another, it's time to register to vote in your new place of residence. If you haven't heard or taken a look at our current leaders in Congress, 2018 is definitely a very important election year. Now more than ever, more women are running for Congress and ready to change the very white and male make-up of our public offices. But more importantly, more black women are running and becoming elected as public officials. The New York Times best-selling author and digital strategist Luvvie Ajayi even put together a growing list of black women who are running for office this year.
Now that you're armed with all of this vital information for your everyday life, it would be a tragedy if you missed an opportunity to exercise your right to vote. Find out more about where you can register to vote in your neighborhood.
7. Create A Vision Board
As Dr. King Jr. once said, "No person has the right to rain on your dreams." It sounds very cliche, but if you can dream it, you can absolutely make it happen. A few weeks ago, I spent a Friday night with a few of my girlfriends discussing what we want to accomplish in 2018. I'm a firm believer in the power of speaking things into existence, and having a crew who can hold you accountable for ensuring those things come to pass. One of the many principles that Dr. King Jr. preached was the need to give back, serve those who are less fortunate than ourselves, and cultivate the communities that we live in and love the most.
So I'll ask again, "What are you doing for others?" Challenge yourself to go beyond dreaming up personal dreams for yourself, but think about how you embarking on leaving a memorable legacy right now. What seeds are you planting and sowing that one day will bear meaningful fruit? Dr. King Jr.'s dream was to one day "see his four little children live in a nation where they will not be judged by the color of their skin but by the content of their character." While he was unable to live to see that happen, the legacy of that dream continues to resonate strongly through the work of three of his children: Bernice King, Martin Luther King III, and Dexter Scott King.
And it should continue in all of us.
Our nation stands on the promise of "liberty, and justice for all," but remember that not everyone is free. Take time to really think about how you want to use your voice to incite change and stand for truth.